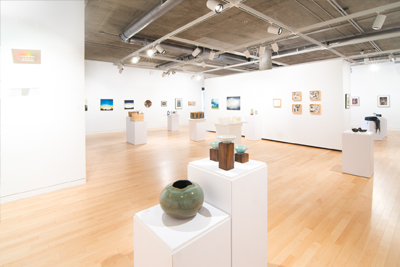 Northwest Arts Center
Welcome back to a new semester at Minot State University and the Northwest Arts Center!
We are returning to full hours for 2021! Spring hours for the NAC are Tuesday through Friday 10 a.m. to 5 p.m., Saturday 1-5 p.m. and by special appointment. Call ahead of your visit if you have any questions. We can't wait to see you!
Out of concern for the safety and well-being of our visitors, staff, and volunteers, we have the following visiting protocols in place based on guidelines from the ND University System, the ND Department of Health and other state and national authorities.
Here's what you need to know before visiting!
Public hours: We are open Tues-Fri, 10 a.m. to 5 p.m. and 

Saturday 1-5 p.m.

Are you at-risk or want to tour a group? Contact us for special appointments outside of regular hours!
Masks: Masks are required for all staff, faculty, students and visitors. #Bewell
Physical distancing: Friends maintain a six-foot distance between others whenever possible. To ensure proper distancing we are limiting capacity in the galleries.
Check-in: Let us greet you! Check in at the front desk and provide us with your contact information for our guestbook.
Sanitize those hands: Friends keep their hands clean. We will have hand sanitizer located at the front desk.
Navigation: Keeping in mind your safety, look out for directional signage located throughout the galleries.
For more information on Minot State Universities Restart please visit www.minotstateu.edu/covid/. For our full COVID-19 policies and restart plan, follow this link.
Mission
The Northwest Arts Center will encourage and promote artistic and multi-cultural expression with education and outreach through an interdisciplinary regional arts center.
Hours: TWThF, 10 a.m. to 5 p.m., Saturday 1-5 p.m. and by special arrangement. The Arts Center is closed holidays.
Northwest Arts Center, 500 University Ave W, Minot, ND 58707, 701-858-3264
 
500 University Avenue West
Minot, ND 58707
(701) 858-3264
nac@minotstateu.edu