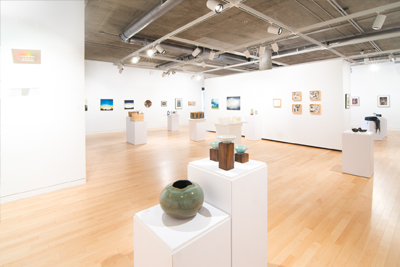 Northwest Arts Center
NOTICE: The Northwest Arts Center will be will be temporarily closed starting Friday, March 20, 2020. In coordination with all areas of Minot State University, we are taking every precaution for the safety of all visitors, staff, students and artists.
The Arts Center understands the vital role that art and artists have in our communities and on our campus to help us make sense of the world, to comfort and help us reflect, but also challenge and expand our vision of our world. Despite the closing of our physical space, please follow us on our social media streams as we look to bring the remainder of our spring exhibitions online.
We look forward to welcoming you back! Thank you for your support and patience.
For current information on Minot State University's response to COVID-19, please follow updates at www.minotstateu.edu/health/covid-19/.

Mission
The Northwest Arts Center will encourage and promote artistic and multi-cultural expression with education and outreach through an interdisciplinary regional arts center.
Hours: MTWF, 10 a.m. to 5 p.m., Thursday 10 a.m. to 8 p.m., Saturday 1-5 p.m. and by special arrangement. The Arts Center is closed holidays.