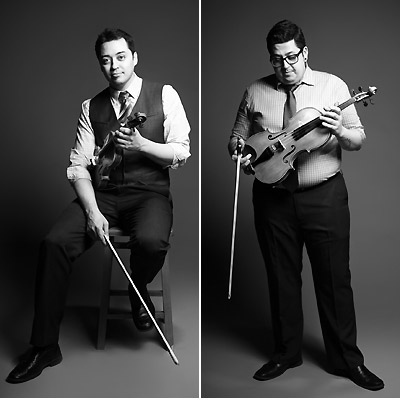 Jason Neukom (left) and Sean Neukom (right)
Meet the Neukom Brothers
Meet brothers & Minot State Alumni:
Interviewed by Emerson Eads
EE: Where are you both from?
JN/SN: Devils Lake, ND.
EE: Where do you live now?
JN/SN: Pittsburgh, PA.
EE: Was there a moment, for you, when you fell in love with music, and if so was there a particular incident or story that helped spark the lifetime commitment to your art?
SN: Jason and I grew up surrounded by music. It really was never a question as to whether or not music would be my life. My earliest memories include hearing dad practicing Czardas, playing in the family quartet, or crying because I couldn't get my fingers to do what I wanted them to.
JN: There are many moments, but I'll list just one here. My mom passed away when I was in my young 20's after many years of struggle, and instead of speaking at her memorial service, I played her favorite violin piece. It is very personal to me, meaningful to me, and it felt like I was able to say so much more than I could have ever said with words. That's a very powerful thing.
EE: What do you do currently?
SN: I play viola in the Beo String Quartet.
JN: I am a violinist in the Beo String Quartet, and on the side I have some orchestra jobs such as being concertmaster for Pittsburgh Festival Opera.
EE: How do you stay motivated in a career full of rejection and competition?
SN: On one hand the love of understanding, growing, and sharing super-cede rejection and competition. On the other, rejection and competition sharpen the tools needed to succeed and bring with them forced growth and creativity.
JN: For me, the competition isn't about getting better than somebody else, it's about always pushing myself to the next level for the sake of the art. Rejections obviously do not feel good, but often, for myself they have acted as a necessary "spring board" that gives me a renewed energy to work harder.
EE: Finding life balance is important for all careers, how do you find a balance in your life?
JN: This is probably not a great question for me, as I find it difficult to turn music off in my brain. I would say that the other people in my life help me remember to designate time to spend away from music. Also, food!
SN: Music is part of everyday life for me. Each new musical experience enlightens life happenings and each life event– mundane or exhilarating– informs musical output or creativity.
EE: Can you put into words what MSU's Music Division and faculty did for you as a musician?
SN: Dr. Rumney was able to harness my excitement and passion and turn it toward productive growth. Being surrounded by other good string players, yet having ample opportunity to experience many performances and musical endeavors was a wonderful balance.
JN: I would say the biggest difference I felt between MSU and the other music conservatories I attended is that MSU gave me much more individual attention. Attention from my violin teacher, Dr. Rumney; more performance opportunities; even individual attention from some of my classroom teachers when I wanted to dig deeper into a subject. There was also a real sense of genuine camaraderie and support between the string students that were there at the time.
EE: When was the last time you wept at a live concert?
SN: All too frequently!
JN: The downside of performing so often is that I rarely get to see a live performance as an audience member since I usually have concerts. But if you count performances that I'm participating in, then I would say that it happens often.
EE: When was the last time you giggled out loud at a live concert?
SN: At least once a concert!
JN: Whether it's a Beo concert or a symphony concert I'm playing, I would say that it's rare if I don't laugh at some point!
EE: Favorite bands, favorite orchestras?
SN: Radiohead, Dream Theater, Cleveland Orchestra, Artimis String Quartet, Emerson Quartet
JN: Emerson String Quartet, Concertgebouw Orchestra, Dream Theater, Radiohead, Artemis Quartet, Cleveland Orchestra, Muse, Dover Quartet
EE: Advice for current students?
JN: If you're looking for the top of your field, then the amount of time you spend working towards that goal is important but not as important as the quality of the work that you are doing. Practice maintaining focus, set short and long term goals for yourself, be patient, be consistent, and never stop learning.
SN: Learn as much as you can now and know that the learning will never stop. You'll just do the learning first without a degree and then with one.

EE: You and Sean are brothers who play in the same quartet, is there any sibling rivalry, and what's it like to make music with your brother?
SN: It's wonderful. It's all the beautiful "deep porch conversations" in every rehearsal and performance.
JN: We've never had a sibling rivalry, which is very fortunate for Sean!! Kidding, obviously. In reality, we've gotten much farther in life acting as support systems for each other rather than competing with one another. It's a very special thing to share the stage together doing what we love.
More information: www.beostringquartet.com