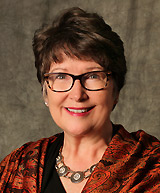 Dr. DeVera Bowles
Professor, Voice
Office: Old Main 114
Email: devera.bowles@minotstateu.edu
Phone: (701) 858-3137

BA, Pfeiffer College
MM, East Carolina University
DMA, Texas Tech University
"As a voice teacher, my goal is to empower students to develop their best sound and artistry through healthy singing habits. I empathize with singers whose technical issues may block their musicality, and find great satisfaction when the underlying cause is uncovered and remedied. Expressive, informed singing is neither mannered nor manufactured, but honestly communicates the composer's musical and emotional intention. At its very best, the singer's artistry intertwines with the voices of the poet and the composer. My job is to introduce students to repertoire that will fascinate, challenge, and fulfill them; my joy is to experience, as the listener, the poignant messages their musical performances provide."
Dr. DeVera Bowles is a Professor of Voice at Minot State University. With over twenty-six years of teaching at the University, she has established a strong reputation as performer, teacher, clinician and adjudicator. Her students are regularly heard in operatic and musical theatre productions, and are frequently awarded top honors in annual senior honors competitions.
Teaching responsibilities include voice lessons, pedagogy, diction and opera scenes. Roles include the Countess, Donna Anna, Donna Elvira, Micaela, Lola and Hannah Glavari. Other significant roles include the title role in Milhaud's Medée, and Poulenc's La voix humaine. Her New York debut at Alice Tully Hall was as soloist with Indiana University's Chorus under the direction of Dr. Robert Porco in Mozart's Grand Mass in C Minor.
Dr. Bowles holds degrees from Pfeiffer College, East Carolina University and the DMA from Texas Tech University. Her teachers and mentors include Sandra Hyslop, Ed Miller, Mary Anderson, Clyde Hiss, Virginia Zeani, Dale Moore and Gerald Dolter.