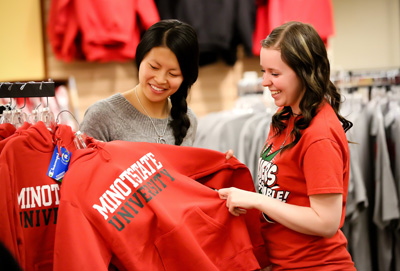 Marketing
Graphic Standards
Regardless of where it is to be printed, ALL publications and print materials must be submitted to Publications and Design Services for approval prior to being produced.
Materials, which must adhere to this policy, include:
Any printed material that promotes specific programs, departments, activities, or special events at Minot State University. Note: While responsibility for originating and funding these materials rests with the academic unit, PDS must approve these publications before they are printed. Materials include:
forms, invoices, and order blanks
especially those which will be sent off campus in the conduct of university business
surveys, polls, questionnaires, or any material distributed with the express purpose of gathering information about perceptions of Minot State
any form of  print advertising, regardless of circumstance
merchandise/promotional items to be sold or given away, such as coffee mugs, pens, t-shirts, etc.
 Exceptions to this policy include:
course syllabi
class handouts
internal (on-campus) communications
non-official communications
To ask questions or submit a project for approval, contact:
Doreen Wald, Manager
Publications and Design Services
doreen.wald@minotstateu.edu      858-3499
OTHER REVIEW
The Marketing Office is responsible for pre-approving/final approval for academic video and broadcast media projects such as videos, CDs, broadcast advertising, and other multi-media projects.
To ask questions or request a project for approval, contact:
Teresa Loftesnes, Director
Marketing Office
teresa.loftesnes@minotstateu.edu         858-3062
The Graphic Standards Manual
The Graphic Standards Manual provides guidelines to help ensure consistent application of the Minot State University identity. Projecting a unified visual identity involves more than simply creating and implementing a logo. Graphic standards provide a sound, flexible structure for using logos, color, and typography — a graphic "vocabulary" unique to Minot State. Because the first contact one has with Minot State is often through printed and online communications, it is vitally important that graphic and brand standards be followed closely. By consistently following these graphic standards, Minot State's visual identity will become established and recognized. These elements will work together to give all Minot State University communications a unique and cohesive appearance. Failure to properly use these elements reduces our ability to communicate with the school's many audiences, and diminishes the identity's value.
» 2011 Graphic Standards Refresh [pdf]
» Graphic Standards Manual [pdf]
» Request for Social Media Affiliation
School Colors
Color plays an important role in keeping all materials consistently recognizable. The three signature colors that comprise Minot State's identity are Minot State Red (PMS Red 186), Minot State Green (PMS Green 3425), and black.
Additionally, a secondary palette has been established. These colors work well in combination with any of the three signature colors: beige (PMS 4535), light gray (PMS 428), and dark gray (PMS 431).
Signature Colors

Minot State Red
Pantone 186
CMYK 0-100-81-4
RGB 204-0-51

Minot State Green
Pantone 3425
CMYK 100-0-78-42
RGB 42-104-75

Black
Pantone black
CMYK 0-0-0-100
RGB 0-0-0
Secondary colors

Beige
Pantone 4535
CMYK 0-4-30-11
RGB 231-216-172

Light Gray
Pantone 428
CMYK 2-0-0-18
RGB 204-204-204

Dark Gray
Pantone 431
CMYK 11-1-0-64
RGB 102-102-102
Recommended typography
Typography, used consistently, is one of the most important design elements in establishing a recognizable graphic identity. Adobe Garamond and Scala Sans font families are the official fonts for use in Minot State materials. These typefaces are attractive, functional, and versatile enough for use in a wide variety of applications.
Adobe Garamond is available for purchase from Adobe Systems: www.adobe.com/type. Adobe Garamond is sometimes bundled with purchased software. Scala Sans is available for purchase from Font Shop International: www.fontfont.com. Freeware and shareware fonts are also available at Web sites such as 1001freefonts.com. The quality is unknown but the price is reasonable.
Adobe Garamond Regular: primarily used for body copy

Adobe Garamond Italic : use for emphasis

Scala Sans Bold: use for headlines or subheads

Scala Sans Regular: use for subheads or body copy

Scala Sans Italic : use for emphasis
It is understood that not everyone will have the recommended font families. If Adobe Garamond and Scala Sans are available, use them as described in the graphic standards manual. If they are unavailable, substitute Palatino for Garamond, and Verdana for Scala Sans. These fonts are readily available on both PC and Macintosh computers.
Implementation
President's Staff and University Cabinet have designated the Office of Publications & Design Services as being responsible for ensuring the correct use and integrity of the standards on all university publications and other materials, whether produced by the university or by an outside agency. This manual is intended to provide a set of basic guidelines for the implementation of the marks that represent the university in its communications, but of course it cannot cover all possible situations and applications. If you have questions concerning use of this manual or the implementation of the logos and marks described within, please contact Doreen Wald (6-3499, doreen.wald@minotstateu.edu).
This policy also includes all forms of advertising and promotional items. The Office of Publications & Design Services will create the ads and the artwork for promotional pieces if so asked. If an off-campus entity creates these pieces, the Publications & Design Services office must approve them to ensure the graphic standards are followed.
Appropriate situations in which to use Beaver athletic logos
The University's athletic logos are intended to be used only for purposes and situations concerning Minot State athletics. The athletic logos are not to be used by MSU departments for general public information and marketing purposes; instead, the official MSU logo is to be used.
Institutionally approved student groups who wish to use a beaver logo for their activities will be required to use either one of two approved Beaver logos. The athletic director, in coordination with the marketing executive team, will monitor usage of the athletic logos.