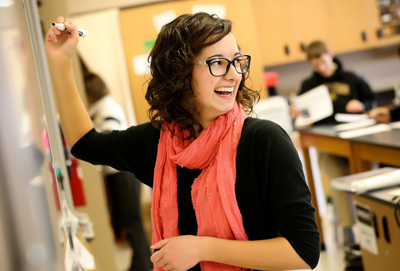 Photography
Minot State University conducts formal photo sessions of students and faculty throughout the year. We use these photo shoots to update our supply of photos for all of our print and digital publications.
Students and faculty from several disciplines participate in the photo sessions. In order to participate, a student must be nominated by their department. They must also complete a photo release form and submit a testimonial.
If you would like to see what photos are available for use in a publication that your department would like designed, please visit our photo gallery: www.minotstateu.edu/marketing/photos. This photo gallery is for internal Minot State use only.
If you would like to see photos of campus and campus events. Please visit our Facebook page: www.facebook.com/minotstateuniversity or our alumni photo gallery: www.minotstateu.edu/alumni/pages/event-photos.shtml