How to Apply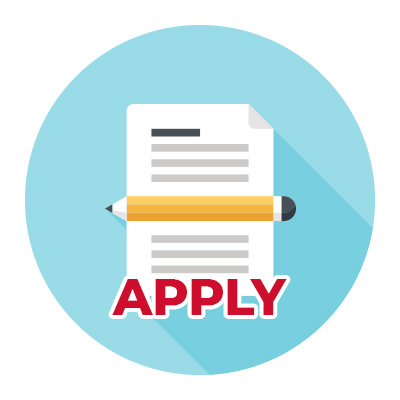 Admission Packet Requirements
This is a one-time, non-refundable, $35 fee. You may pay online within the application or send a check or money order to:
Graduate School-Admissions, Minot State University, 500 University Avenue W., Minot ND 58707 

International applicants only: Make the check or money order payable to Minot State University and note the applicant's full legal name as it appears
 The application requires you to upload your Word file in the Document Upload section within the online application.
Upload a concise (minimum 500 words) essay describing your primary interest of study, and your objective in pursuing this degree at Minot State University.
Be as specific as possible in describing your interests, relevant education, research, commercial, government, or teaching experience.



Speech-Language Pathology applicant

s

 MUST describe your experiences that align with the program mission.
The following programs require a resume (uploaded in the same manner as the Statement of Purpose):
Education Specialist in School Psychology
Master of Science in Information Systems
Master of Science in Management 
Master of Science in Sports Management 
The Minot State University Graduate School requires three recommendations for persons applying for admission. Recommendations should be requested from individuals who are familiar with the applicant's academic or professional background and who are able to comment on the applicant's qualifications for graduate study. 
Recommendation Form must be submitted by the provider 
The Recommendation Form is sent automatically to the provider's email through the online application system (you will be required to list three provider names and email addresses)
Application can be submitted prior to the recommendations being received
MS in Speech-Languague Pathology (SLP)

 

applicants: MUST provide two Recommendations Forms within the SLP major and one external evaluator
Undergraduate GPA Requirement

Earned baccalaureate degree 

Minimum undergraduate grade point average of at least 2.75 (scale of A-4.0) Note, GPA requirement is higher for some of our programs.

Graduate Record Exam (GRE) General Subject test: 

 

(use school code 6479) required for the following programs:

Education Specialist-School Psychology
Master of Science in Management (MSM):

 

ONLY

 

if your most recent semesters contributing to at least 60 semester hours is below a 3.00. Must score in the upper 50th percentile.

English Proficiency: (use school code 6479)

International students whose native language is not English must prove English proficiency. Details are provided under the International Students additional supporting documents section.
Official transcripts from ALL previous colleges or universities, both graduate and undergraduate, are required. 
An official transcript showing the earned baccalaureate degree is required for admission consideration.
Official transcripts are only accepted from the originating institution. Electronic Transcripts from the originating institution are also acceptable. 
If you previously attended a North Dakota University System (NDUS) institution, we will automatically download your official transcript provided you have no holds on your account at that institution.
International (Non-Canadian) Students: Msut submit a course-by-course academic credential evaluation in lieu of official transcripts. Details are provided under the International Students page.
Mailing address:  Minot State University, Graduate School, 500 University Ave W, Minot, ND, 58707
Email: graduate@minotstateu.edu
Proof of immunization for measles, mumps, and rubella (MMR). Students ages 21 and younger residing in campus housing must provide documentation of immunity against meningococcal disease, as required by the State Board of Higher Education. 
An immunization record waiver will apply to those who were born prior to 1/1/1957, those enrolling in distance education courses (online, correspondence, or an off-campus site) and those who adhere to a belief (religious, philosophical, moral) that are opposed to immunizations.
No student will be permitted to enroll in a subsequent term until immunization or documentation of a waiver is complete.
Non-Degree and Certificate applicants:
The statement of purpose, resume, and recommendation forms are not required
Non-degree and certificate students are not eligible for Financial Aid
Only 12 SH of non-degree credits are applicable to a full master's degree
Re-admission applicants:
International Applicants
Admission for international students is determined by a selective process that includes consideration of English language proficiency (Canadians are exempt) and academic achievements.
In addition to the Graduate School admission requirements, the following required supporting documentation listed below must also be sent to Admissions by the appropriate deadline.
For more information: contact Penny Brandt, Admission Specialist, at 701-858-3413 or penny.brandt@minotstateu.edu.
Out of State Residents: MSU is authorized to offer distance (online) education to residents in all states, however, if you are seeking licensure some restrictions may apply. Visit MSU Online for details or visit with the program director of your program of interest.
Minot State University Graduate School reserves the right to refuse admission to any applicant on the basis of scholastic or other reasons.

Mailing Address: Graduate School Admissions, Minot State University, 500 University Ave W, Minot ND 58707.
Email Address: graduate@minotstateu.edu

After you successfully submit your admission application please allow 5-10 business days for processing. After that time, you will have access to My VIP Page. This page provides a checklist of the required supporting documents needed to complete your packet. Manual updates to the checklist are made AFTER the application has been processed and then as items are received.  Be sure to check your MY VIP page often to monitor the status of your packet and watch for status update emails.