Change of Address Information
Update your Student/Personal Information:
Log on to Campus Connection
Click on the Profile tile, then the corresponding menu item on the left side to view/update your:

Address
Phone numbers
Email Address

Click the each item to update your information.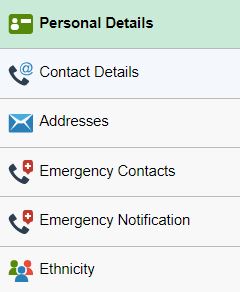 Note: Students are responsible for keeping MSU current with an address and contact information.
Any questions please call 701-858-3349 or 1-800-777-0750 ext 3349 or email kimberly.johnson.4@minotstateu.edu. If you are having problems logging into Campus Connection please contact the NDUS help desk toll free at 1-866-457-6387.