Freshman Admission Guarantee for speech-language pathology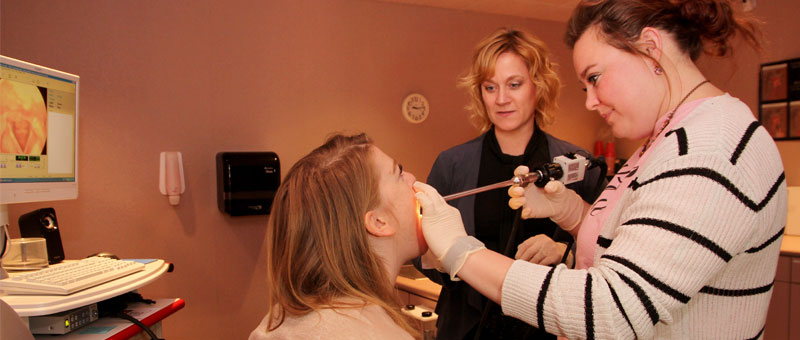 MINOT, N.D. – Minot State has unveiled a Freshman Admission Guarantee opportunity for prospective students interested in becoming speech-language pathologists.
Speech-language pathology is one of the fastest growing careers with growth expected well into the future. As an SLP, graduates can work with people of all ages to prevent, diagnose, and treat speech, language, communication, and swallowing disorders.
The Freshman Admission Guarantee will allow eligible students automatic entry into the highly-regarded Master of Science in Speech-Language Pathology program following the completion of their four-year undergraduate degree at the University.
"The process of getting accepted into a graduate program is very competitive and can be nerve-wracking. According to the current CSD Education survey (2019-2020), only 39% of applicants are admitted into a master's level program," said Mary Huston, communication sciences and disorders interim chair. "This freshman guarantee helps alleviate some of that anxiety by increasing the likelihood of getting into a quality speech-language pathology graduate program."
Minot State's undergraduate program in communication sciences and disorders prepares students for graduate studies in speech-language pathology and prides itself on getting students out in the field from the start by providing an on-campus undergraduate clinical experience in the senior year. Once students transition to the master's program, they can choose their final externship site anywhere in North America.
In addition to the Freshman Admission Guarantee, hands-on learning experiences, and externships, the speech-language pathology master's program has a 100% pass rate on the PRAXIS test and boasts 100% employment for graduates. Students often secure jobs prior to graduation across the United States and Canada.
According to the Bureau of Labor Statistics Occupational Outlook Handbook, the demand for speech-language pathologists is expected to continue to rise by 25%, much faster than average. Speech-language pathologists are in high demand across the United States and Canada. Speech-language pathologists work with all ages from infants to geriatrics and in a variety of settings including schools, hospitals, private practice, and early intervention programs.  
For more information about the Freshman Admission Guarantee, including eligibility criteria, visit the Freshman Admission Guarantee page at MinotStateU.edu/cd/.
About Minot State University
Minot State University is a public university dedicated to excellence in education, scholarship, and community engagement achieved through rigorous academic experiences, active learning environments, commitment to public service, and a vibrant campus life.
---