Welcome to the Minot State Department of Nursing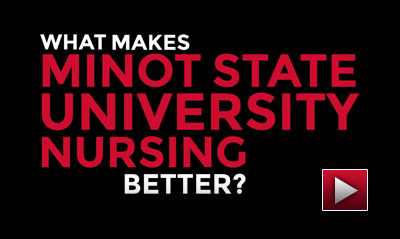 The BSN degree is associated with high quality nursing care, positive client outcomes, and saving lives. Your BSN degree opens the doors to a wide variety of career choices as the nationwide nursing shortage is expected to grow to more than 250,000 registered nurses by 2025.
Energetic and dynamic, the Department of Nursing has pre-nursing students, prelicensure nursing students, and online BSN Completion students enrolled. High-fidelity clinical simulation experiences are incorporated for all nursing students in the Nursing Clinical Simulation Center. Innovative public health nursing experiences allows individuals to remain independent through student nurses' provision of an Adult Health Maintenance Clinic. Our nursing faculty have a variety of clinical and educational experiences that enhance teaching and learning in the classroom and clinical setting.
Accredited by the Commission on Collegiate Nursing Education and approved by the ND Board of Nursing, the Department of Nursing offers a Bachelor of Science in Nursing degree (BSN).
The four year plan and sample curriculum is noted in the BSN Program (Prelicensure) Fact Sheet for the pre-licensure students and the RN to BSN Program Fact Sheet for post-licensure students.
PROGRAM INFORMATION & ADMISSION REQUIREMENTS FOR:
TUITION, SCHOLARSHIPS, & FINANCIAL AID
A record number of nursing and general scholarships are available.
We are the most affordable university in the U.S. for out-of-state students.
Our new Automatic 4-Year Academic Award is available to qualified incoming freshman.
47% of our students graduate with no student loan debt.