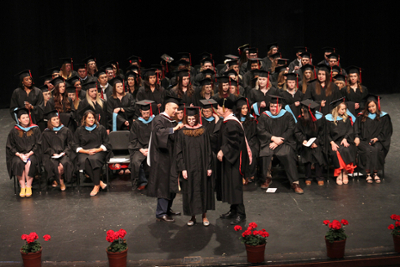 Hooding Ceremony for Education Specialist and Master Degree Candidate
Graduate School Application for Graduation: An application should be submitted for the term when all degree requirements will be met.
Graduate School Hooding Ceremony
Completion of a post-baccalaureate degree is celebrated not only with the awarding of the degree but also with a traditional ceremony where each candidate is hooded with the garment of the appropriate colors to signify the degree earned. This Hooding Ceremony takes place at 8:00 am in Ann Nicole Nelson Hall (Old Main) prior to the Commencement ceremony.
Hooding Ceremony and Commencement Participation Form
Please fill out this online form if you wish to participate in the 2022 Graduate School Hooding and MSU Commencement Ceremony. The reservation deadline is March 11, 2022.
Electronic Form
Regalia
Order your master's gown, hood and cap (required) and graduation announcements (optional) from the Herff Jones website, by April 8, 2022. For more information click Purchase Regalia or call the Bookstore with any questions at 701-858-3390.
Line Up and Processional
Candidates will line up at 7:15 am, promptly, in the west hallway, second floor, Old Main, near Ann Nicole Nelson Hall, in full regalia, with hoods draped over the right arm.
The Processional begins at 8:00 am sharp. Candidates will follow their assigned marshal down the west aisle of the hall, ascending the west stairs to the stage, and remain standing until the speaker invites everyone to be seated.
Recessional
The student marshal will dismiss each row. The graduates will follow the designated administrator down the stairs, up the west aisle, and out of the hall.
Photography
A professional photographer will be taking a photo of each candidate as the hooding takes place. Proofs will be mailed out at a later date by the photographer. Graduates will have the opportunity to purchase these photos, but there is no obligation to do so.
Guest Information/Accessibility Accommodations
Ann Nicole Nelson Hall will be open as early as 7:00 am on Hooding/Commencement day. Elevator access is available in the east entrance of Old Main.
Arrangements can be made for persons with disabilities that need seating accommodations. Please contact the Graduate School prior to April 25, 2022 for assistance at 701-858-3413 or 1-800-777-0750 ext. 3413.
Commencement Ceremony
Commencement Ceremony details
For questions concerning the Hooding Ceremony, please contact:
Penny Brandt
Graduate School Admissions Specialist
701.858.3413 or 1.800.777.0750, ext. 3413
penny.brandt@minotstateu.edu