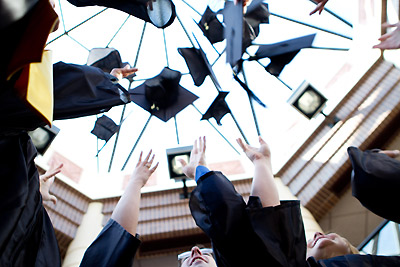 Purchasing Caps, Gowns, and Announcements
Deadline for ordering - April 8
All Graduates: Academic regalia and announcements are available for purchase starting January 10. The deadline for purchasing regalia and announcements is April 8. Orders should be placed online at:
Undergraduate Student Honors: Students who graduate with honors (cum, magna, or summa cum laude) will have the option of purchasing a stole that is worn over the gown. Honors designation for commencement purposes is determined by the overall grade point average as indicated on the transcript in the last completed term prior to graduation. If a student is uncertain about whether he/she qualifies for honors, he/she may check with the Registrar's Office.
Attention Bottineau graduates: Please contact Penny Belgarde to inquire if you have qualified to graduate with honors.
Please note: Due to the GPA requirement to graduate, honors for graduate students is limited to the Citation of Excellence Award for which students must be nominated.
Graduate Students: Graduate students' academic regalia consists of a master's gown and a master's hood. The color on the hood signifies the degree earned, so it is important to be clear when ordering the hood to specify the degree and program (ex. Master of Arts in Teaching: Mathematics).
Graduation Announcements
The bookstore offers graduation announcements. Samples will be on display in the bookstore beginning January 10.
Graduation Gifts
The bookstore offers a variety of commencement-related products with samples on display. The bookstore will be open 8:00 am - 5:00 pm on Friday, May 13.
Questions about Bookstore Commencement Services and Products
Tiffany Heth, Manager
701-858-3390 or fax 701-858-4226
tiffany.heth@ndus.edu