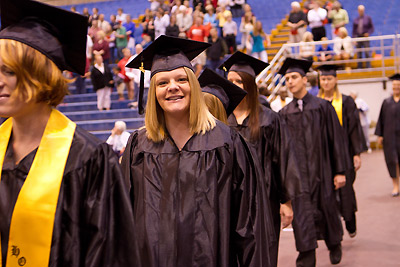 2019 Commencement Guide
Beyond Graduation
Welcome to the MSU Alumni Association
Congratulations on your recent graduation from Minot State University! You have many great opportunities that lie ahead of you. Your future also includes staying in touch with your alma mater and the lifelong friends that you made during your time at MSU.
Connections
This is a magazine that is distributed three times a year to MSU alumni and friends. You will be able to keep up to date with the happenings at MSU, keep in touch with old friends, and read about some amazing stories that come from our alumni.
MSU Alumni Gatherings
The Alumni Association hosts many socials and activities throughout the country to help keep alumni connected to MSU. If you would like to help host one in your area, please let us know. Check out our website for alumni happenings and be sure to watch your mailbox for activities in your areas.
Homecoming
This is a time for alumni to come back and relive some old memories and make some new ones. There are many exciting events that take place during this time: alumni reunions, athletics' reunions, the Homecoming parade, tailgating, and more. We hope you are able to join us during this exciting time that is full of red and green school spirit!
MSU Vision
We hope your time at Minot State University was unforgettable and one that you will always treasure and remember. We want to make sure that future students at MSU have as great an experience as you once did. You can help by supporting student scholarships, campus initiatives, and the vision at MSU through the MSU Development Foundation.
Alumni Website
Keep up to date with the Minot State University alumni website. Look for all of the latest events and happenings in your area and back on campus. You can keep up to date with the classmate directory and also access the current Connections magazine.
Contact Us
500 University Avenue West
Minot, ND 58707
1.800.777.0750 or 701.858.3234
www.minotstateu.edu/alumni
Graduate Education at Minot State University
Minot State University's Graduate School proudly offers 10 degrees with a total of 28 concentrations, options, or emphases. Courses are available on campus, online, via IVN, and in some cases, at locations outside the Minot area.
Degrees Offered
Education Specialist in School Psychology
Master of Arts in Teaching: Mathematics
Master of Arts in Teaching: Science
Master of Education w/concentrations in
      - Art
      - Business
      - Elementary Education (also offered in Fargo)
      - Elementary Mathematics Education
      - English (in conjunction with the Northern Plains Writing Project)
      - Kindergarten
      - Middle School
      - Physical Education and Kinesiology
      - Reading
      - Special Education
Master of Music Education
Master of Science in Communication Disorders
Master of Science in Criminal Justice
Master of Science in Information Systems
Master of Science in Management
Master of Science in Special Education with emphases in
      - Education of the Deaf
      - Early Childhood Special Education
      - Learning Disabilities
      - Severe Multiple Handicap
      - Special Education Strategist
Certificate in Knowledge Management
Certificate in Rural Special Education Strategist
Minot State University also offers courses toward a PhD in Criminal Justice, in collaboration with the University of North Dakota.
Financial Assistance
Several of the education programs are supported by state and federal grants, providing admitted students a range of funding that most often includes tuition, fees, and books. Teachers wishing to pursue graduate education in mathematics and science are eligible for full scholarships that include stipends per credits as courses are completed.
Each year, the Graduate School awards over $50,000 in Graduate Assistantships to eligible students. Additionally, several programs have scholarship funds available.
Admission requirements vary among the programs, but all programs have the following minimum requirements:
Undergraduate degree from an accredited institution of higher education
Undergraduate GPA of 2.75 (on a 4.00 scale) or 3.00 on the last 60 hours
$35 one-time, non-refundable application fee
Completed Graduate School application form
Three letters of recommendation
Statement of purpose
More Information
For application deadlines and additional admission requirements, please link to the specific program web site.
Contact the Graduate School today to learn more about pursing a graduate degree from Minot State University.
Penny Brandt
Graduate School Admissions Specialist
701.858.3413 or 1.800.777.0750, ext. 3413
penny.brandt@minotstateu.edu
www.minotstateu.edu/graduate