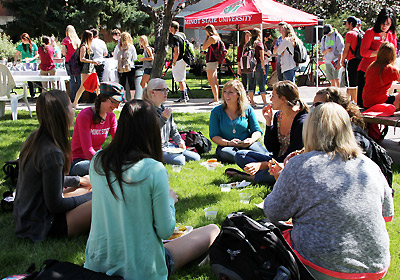 Student Clubs & Organizations
We're not bragging when we say there's a lot to do at Minot State University!
Student life at MSU isn't just about classes, tests and grades. Getting involved with a student organization is a great way to practice effective time management skills, connect you with like-minded people, and truly help you feel at home on campus while you make lasting connections and memories. 
Minot State University offers more than sixty student organizations reflecting the variety of interests of our student population. 
From leadership opportunities and community service to social events and entertainment, getting involved is easy! Consider joining an organization related to your academic area of study. Find something you enjoy or challenge yourself to do something new. Start by exploring our list of active student organizations below! 
Club List
Starting a New Club
Club Funding
Minot State University Clubs & Organizations
Whether you're an incoming freshman or a junior looking to branch out, we encourage you to get involved in student organizations our campus has to offer! Clubs range from academic to recreational, spiritual to political and everything in between. 
Click here to explore our list of active campus organizations!
Starting a New Student Organization at Minot State University
Student organizations play an important role in student development on the campus of Minot State University. New student organizations are welcome to form at any time throughout the year. Forming an organization can be a challenging, but ve­­ry rewarding process. To ensure success, the Office of Student Activities has designed a process that will help your group form a solid foundation so that your organization can flourish and provide valuable experiences to your fellow students. Follow these steps to get started!
First, a full-time Minot State University student must complete a 'New Student Organization' application form through the Office of Student Activities that includes a roster of ten full-time MSU students who support the mission of the proposed organization.
The forming group must identify at least one Minot State University faculty or staff member to serve as the organization's official advisor.
The next step is to draft an official constitution and submit a digital copy to the Office of Student Activities. The document will be reviewed by the Student Welfare & University Affairs Committee (comprised of Minot State University students, faculty and staff) for approval.
Once officially approved by the Student Welfare & University Affairs Committee, the new club can begin to request meeting spaces, club funding, a campus bank account and a club email address.
Ready to get started?
E-mail aaron.hughes@ndus.edu for a printed application form or complete one online to register as an official student organization at Minot State University! 
Clubs and Student Organization (CSO) Club Funding
A CSO club funding informational meeting is scheduled each semester to review club requests. Each club must have one member present during the meeting to be eligible to submit a proposal for fall semester.
Contact leon.perzinski@ndus.edu for more information.