Staff Senate donates to Minot Public Schools middle school lunch program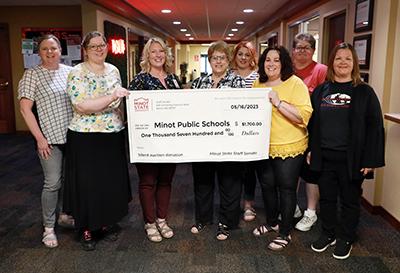 Members of the Minot State University Staff Senate present a check for $1,700 to Minot Public School's middle school lunch program with proceeds from its annual Silent Auction fundraiser. Pictured are, from left, Jeni Anderson, MSU Staff Senate; Janese Lehman, MSU Staff Senate; Ivy Thorson, Minot Public Schools; Leann Tennyson, Minot Public Schools; Kelli Marchand, MSU Staff Senate; Katy Allers, MSU Staff Senate; Penny Lipsey, MSU Staff Senate; and Karla Bredahl, MSU Staff Senate.
MINOT, N.D. – Minot State University's Staff Senate presented Minot Public Schools with a check for $1,700 to go towards the lunch program at Minot middle schools.
The donation was part of MSU Staff Senate's annual silent auction fundraiser that takes place each spring semester, culminating in a donation to a local charity. This year, Staff Senate added a live auction to the fundraiser, auctioning off baskets donated by the campus community. The person with the highest bid made the decision on which charity would receive a check.
MSU's POWER Center Director and outgoing Staff Senate President Katy Allers' basket sold for $160 to give her the final vote.
"Staff Senate is amazed at the amount of funds raised this year at the silent auction!" Allers said. "Adding the live auction to the event was a great idea and we plan to make it a permanent part of the yearly event. I was fortunate to be able to choose the organization to receive the funds this year and I chose the lunch program at the middle schools."
According to Minot Public School officials, there is still a large number of negative balances as families struggle to recoup after the COVID-19 pandemic.
"The amount we donated won't cover all the negative balances, but every little bit helps," added Allers.
Minot State Staff Senate is a representative body of MSU's classified employees and serves the needs of the employees including communication with the president, administration, and all University staff. For more information on the silent auction and the many other events planned by Minot State Staff Senate, visit the organization's WEBSITE.
About Minot State University
Minot State University is a public university dedicated to excellence in education, scholarship, and community engagement achieved through rigorous academic experiences, active learning environments, commitment to public service, and a vibrant campus life.
---