Minot State adds men's club soccer, hires Spain to coach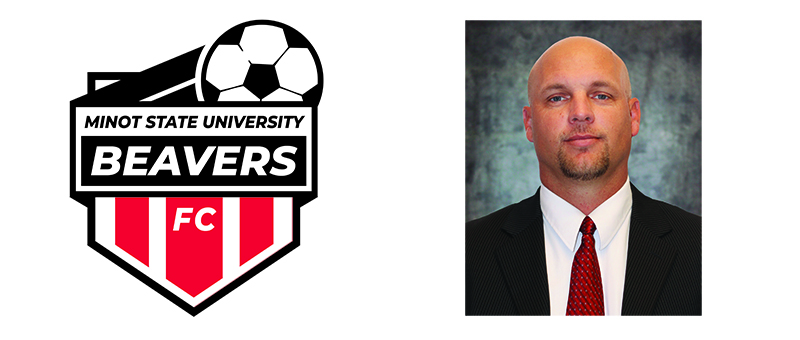 MINOT, N.D. – Minot State University is excited to announce the addition of men's club soccer to begin play in Fall 2023.
The team is not affiliated with the Minot State Athletics Department and NCAA Division II, but will join a robust list of clubs at the University.
"We are excited to launch men's club soccer as a new team at Minot State University," said Jacek Mrozik, vice president for enrollment, marketing, and engagement. "Men's soccer is one of the fastest growing sports in the U.S. and will soon become one of the fastest growing in the northern Great Plains. By starting this team now, Minot State will establish itself as a key player in men's soccer in the region as the sport continues to grow."
Minot State University Beavers FC has officially hired its first-ever coach in former MSU women's soccer head coach Jason Spain. Spain began recruiting for his inaugural season immediately and expects to carry 25-30 players.
Spain is not only no stranger to Minot State, but he is no stranger to starting programs. He was the architect for MSU women's soccer and building it into a conference contender, earning four trips to the NCAA Division II National Tournament, and winning both the Northern Sun Intercollegiate Conference regular season and tournament titles. He was 109-53-18 overall in nine seasons.
"We are pleased to have Jason as our head coach, with his experience and proven track record, I have full confidence that under his leadership, this team will succeed immediately in their first season," Mrozik said. "With the World Cup coming to North America, the sport growing nationwide, and finding the right coach, all of this is perfectly aligned."
Minot State University Beavers FC will compete in the Great Plains Soccer Conference (GPSC) that includes teams from North Dakota, South Dakota, Nebraska, and Minnesota. The GPSC is in Region 5 of the National Intramural-Recreational Sports Association (NIRSA).
The team will announce its inaugural schedule later in the spring.
"I am excited to start this opportunity to build this program from the ground up," Spain said. "Minot State University Beavers FC will strive to be a leader within the region to help educate and expand soccer."
The addition of men's club soccer helps fulfill Minot State's commitment to giving students an abundance of opportunities to get involved.
For more information on men's club soccer, see its WEBSITE. For more information on more than 50 clubs and organizations at MSU, see the Student Government Association's clubs and organizations WEBSITE.
About Minot State University
Minot State University is a public university dedicated to excellence in education, scholarship, and community engagement achieved through rigorous academic experiences, active learning environments, commitment to public service, and a vibrant campus life.
Published: 03/07/23   
---