Summer Theatre welcomes back in-person audiences for Season 56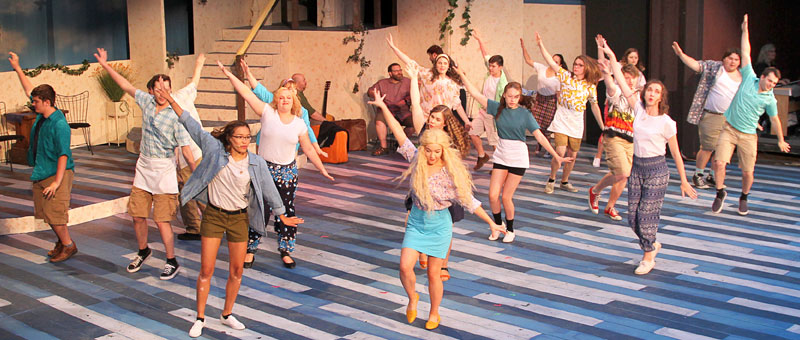 MINOT, N.D. – After a year hiatus of in-person performances, Minot State University Summer Theatre is back.
"Many say that the most important ingredient to any successful performance is a live audience," said Chad Gifford, Summer Theatre artistic director. "We have sorely missed seeing everyone and are nearly giddy with joy that we will have people in our seats again. When that first audience applauds, that heart-warming sound will signal a return to our favorite place on Earth."
The season opens mid-June and features three shows plus a special one-night event.
Kicking off summer, Roald Dahl's "Willy Wonka" will run from June 16-21 and 23-26, followed by Ken Ludwig's "The Game's Afoot," a murder mystery full of laughs and sudden surprise twists, July 7-12. The third show will run July 21-26 and 28-31 and is aimed at adults and not recommended for children: Dolly Parton's "9 to 5." Featuring classic Parton songs, the musical follows a trio of working women pushed to the limit by their overbearing boss until they do something unthinkable.
In between "The Game's Afoot" and "9 to 5," local talk show "Goodnight Minot" will hold a live performance at the iconic outdoor location. Host Jacob Thrailkill will crack jokes, interview guests, and engage in various shenanigans on July 15.
Season 56 will be one for the record books, and not just because of Summer's Theatre's return from an online-only presence during Season 55. It will also be an opportunity for guests to see Phase One of the amphitheater's revitalization project.
"This year is doubly exciting because audience members will also get to see all of the changes Phase One of the renovation project completed," said Gifford. "It is a fantastic sight to behold."
Phase One focused on upgrades to accessibility, increased space for aisles and handrails, and a replacement of the upper level deck.
The Hook & Ladder Wine Deck has expanded seating from 12 to 32 and will feature special amenities to patrons seated there, including a wine and beer bar for select performances and show-specific surprises at other shows. New deluxe seating in Row T allows guests to sit at a table.
Tickets will be available for purchase starting June 2 online at MinotStateU.edu/theatre or by calling the ticket line at 701-858-3228. All performances begin at 8:30 p.m.
For additional information about Summer Theatre and the revitalization project, including future phases and donor opportunities, visit MinotStateU.edu/theatre. Follow the theater on Facebook at MSUSummerTheatre to learn more about Season 56.
About Minot State University
Minot State University is a public university dedicated to excellence in education, scholarship, and community engagement achieved through rigorous academic experiences, active learning environments, commitment to public service, and a vibrant campus life.
---