Minot State Art Scholarship application open, deadline Feb. 15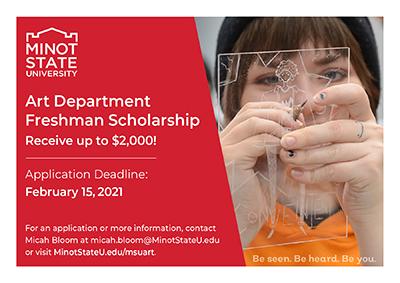 MINOT, N.D. – The Minot State University Art Department is proud to announce the Harvey and Arlone Twyman Scholarship application process is now open for the 2021 academic year.
The scholarship is available to incoming freshmen and transfer art students and recipients will be awarded up to $2,000. Scholarship awards are determined by the quality of the application and the portfolio. Additional requirements include current art major status and a minimum 3.00 GPA.
Applications are due Monday, Feb. 15. All scholarship awards are granted by the scholarship committee made up of art department faculty.
For more information and to fill out an application, visit the Minot State Art Department SCHOLARSHIP website or see attached FLIER. Questions can be directed to Minot State art professor Micah Bloom by EMAIL. All applicants must also fill out the general Minot State scholarship form, available HERE. Deadline for the general scholarship application is Feb. 15.
About Minot State University
Minot State University is a public university dedicated to excellence in education, scholarship, and community engagement achieved through rigorous academic experiences, active learning environments, commitment to public service, and a vibrant campus life.
---