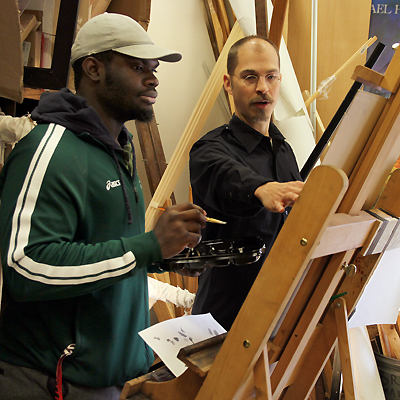 Scholarships
All applicants must also fill out a general scholarship form through Minot State.
AND » Art Department Scholarship Application [pdf]
Tom Willis Art Scholarship Tom Willis enjoyed a long and distinguished career as a Professor of Fine Arts at Minot State. He taught ceramics, jewelry, sculpture and 3-D design until his retirement in 2000, and was then granted Professor Emeritus. This scholarship honors him and is awarded to currently enrolled majors.

Harvey & Arlone Twyman Scholarship (Art) Harvey "Bud" Twyman was a Minot State student in the 1930s, and because of his love for the arts, he left a sizable endowment for scholarships in art, drama, English and music. This scholarship is awarded to currently enrolled majors. 
All awards are determined by application quality and strength of portfolio. Requirements include: current art major status, 3.00 GPA (minimum), two references, and submission of a complete Art Department Scholarship Application form (above).

Humanities Scholarship
The Humanities Scholarship is open for all art students and is awarded on a 3-year rotation.