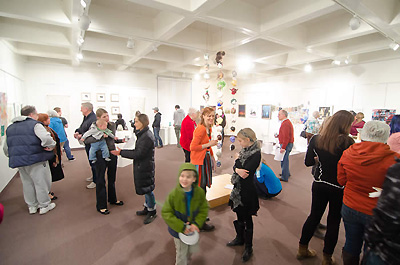 Northwest Art Center - Hartnett Gallery
Art Program
Galleries
Northwest Arts Center
Minot State University is home to two art galleries managed by the Northwest Arts Center. Best known for its diverse contemporary and traditional art, The Northwest Arts Center hosts exhibitions by local, regional, national, and international artists.
The Center's galleries, the Library Gallery and Hartnett Hall Gallery, are located on Minot State University's Campus along 11th Avenue Northwest.
Flat Tail Gallery
Flat Tail Press manages a gallery space located in the administration building on the Minot State University campus. The Flat Tail Press Gallery hosts three to four exhibitions a year focussing primarily on works on paper.
62 Doors
62 Doors Gallery and Studios was started by a small group of artists in the summer of 2005. The walls that divide the studios consist of doors salvaged from an old barn and the top floor of the Artmain building. 62 Doors has 9 individual studio spaces, a printmaking studio, a gallery, and a commons area with a kitchen and living room. Studio renters work in a collaborative effort to put together gallery exhibitions with receptions that are open to the public.
The Lillian & Coleman Taube Museum of Art
The Lillian & Coleman Taube Museum of Art, formerly known as the Minot Art Gallery is a public, non-profit membership organization. The Taube Museum of Art is located in the historically renovated Union National Bank building at 2 North Main.
The Lillian & Coleman Taube Museum of Art encourages affiliation with various community arts groups, such as the Minot Area Council of the Arts, the North Dakota Art Gallery Association, and the Mouse River Players, to strengthen the arts in the region. It provides opportunities for the community to learn about all forms of the visual arts through varied exhibits. The Lillian and Coleman Taube Museum of Art is open to the public 12 months of the year, five days a week.