Minot State hosts 30th Annual Spring Honor Dance and Powwow Celebration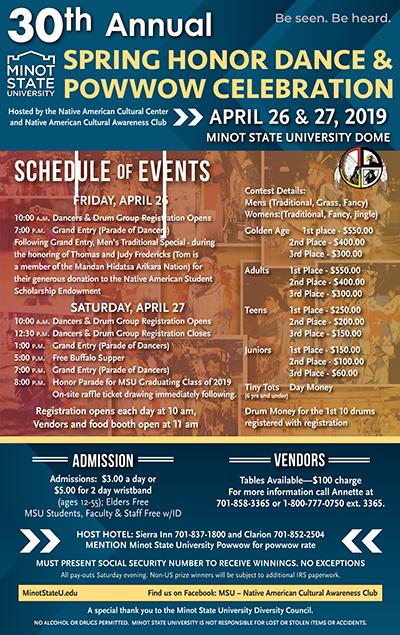 MINOT, N.D. – The Minot State University Dome will be bursting with Native American traditions on Friday, April 26 and Saturday, April 27 during the 30th Annual Spring Honor Dance and Powwow Celebration.
The event is sponsored by the Minot State Native American Cultural Center and Native American Cultural Awareness Club and is one of the largest student activities on campus.
On Friday, April 26, the event will begin with dancers and drum group registration opening at 10 a.m. and vendor and food booths starting at 11 a.m. A Grand Entry, also known as a parade of dancers, will begin at 7 p.m. and offers attendees the opportunity to witness dancers in traditional dress and costume.
Following that Grand Entry, Minot State will honor Thomas and Judy Fredericks. The Fredericks established the Catherine Medicine Stone Fredericks Scholarship Endowment in 2018.
"The endowment honors Thomas's mother who was a lifetime resident of the Fort Berthold Indian Reservation and believed education was the way to a better life for her nine children," said Kate Marshall, Minot State capital campaign and donor relations coordinator. "Scholarships will benefit Native American students pursuing a degree in any major. Thanks to the Frederick's generosity, the endowment will impact generations of Minot State Native American students."
On Saturday, April 27, the day will start with registration from 10 a.m. to 12:30 p.m., vendors and food booths opening at 11 a.m., and a Grand Entry at 1 p.m. A free buffalo supper will begin at 5 p.m., followed by the third and final Grand Entry at 7 p.m. and an Honor Parade for the Minot State graduating class of 2019 at 8 p.m.
"MSU will graduate 19 Native American students this year, they come from Indian country around the United States and North Dakota," said Annette Mennem, Minot State Native American Center director, said.. "That makes the work put into this honoring special."
For more information about the Native American Cultural Center honoring Tom and Judy Fredericks, view the press release HERE. To access the Spring Honor Dance and Powwow Celebration flyer, visit HERE.
About Minot State University
Minot State University is a public university dedicated to excellence in education, scholarship, and community engagement achieved through rigorous academic experiences, active learning environments, commitment to public service, and a vibrant campus life.
---