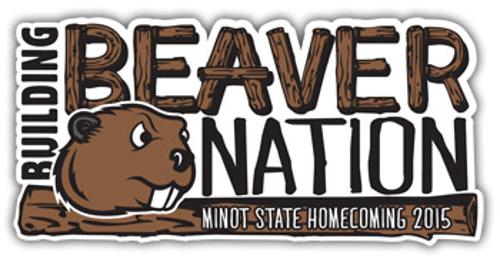 University Communications
MSU Homecoming 2015: 'Building Beaver Nation'
Minot State University continues its tradition of excellence with its 87th Homecoming, which centers on the theme of "Building Beaver Nation." Homecoming Week officially kicks off Sept. 15 and runs through Sept. 19.
"Each year Homecoming gets bigger and better, and I'm excited to see it all come together!" said Janna McKechnie, director of alumni relations and annual giving. "As Minot State joins forces with our community supporters in 'Building Beaver Nation,' we hope people will participate in the many events available for our alumni and friends."
For the entire community, MSU hosts the Community Block Party Sept. 15, 5-7 p.m., in front of the Dome on 11th Avenue. The Block Party, which is free and open to the public, promises family fun and entertainment for all ages. There will be free food (while it lasts), bounce houses and assorted kids' activities, door prizes and music by the MSU Marching Band, and musician Jason LeVasseur. Registration for the Beaver 5K Fun Run/Walk is at 4:30 p.m., or by calling Stu Melby, head cross country/track and field coach, in advance at 858-3268. The race, which is a fundraiser for athletic teams, begins at 5:45 p.m. Homecoming coronation at 6:30 p.m. caps the evening festivities. In case of inclement weather, all Community Block Party activities will move inside the Dome.
At Herb Parker Stadium at 7 p.m., the MSU Soccer Team will battle against the University of Mary.
To honor donors to the university, the Office of the President will host a President's Club Luncheon Sept. 16.
Sept. 17, recipients receive the highest honor bestowed by the MSU Alumni Association at a banquet in the Conference Center at 6 p.m. Linda (Wagner) Christianson, Deb (David) Schultz and Sandy (Schjeldahl) Starr are the 2015 Golden Award recipients, while Dr. Tami Jollie-Trottier will receive the Young Alumni Achievement Award. Banquet tickets are $30 and can be reserved by calling 858-3373.
Also that evening, the MSU Volleyball Team will play against Minnesota State University-Moorhead in the Dome at 7 p.m.
Sept. 18, the Homecoming Alumni Reunion, open to all MSU alumni and friends of the university, will convene at the Grand Hotel, 7 p.m. This year, members of Sigma Tau Gamma, Gamma Delta Chapter, will celebrate the fraternity's 50th anniversary. Other special reunion groups include the '95-'96 and '97-'98 women's basketball teams.
The Embermen 5 will also perform their Last Hurrah Concert that evening in the Minot Municipal Auditorium at 8 p.m. The concert will feature Soulshine as well. Tickets are $20, and all proceeds will go to MSU Greek Life.
Homecoming reaches its apex Sept. 19 with the Homecoming Parade at 10:30 a.m. The parade route will culminate in the Dome parking lot.
A tailgate party will follow in front of the Dome on 11th Avenue. The MSU Beavers face off against Concordia University, St. Paul, in football at Herb Parker Stadium, 1:30 p.m. During halftime, the Homecoming Royalty, the Sigma Tau Gammas and the '95-'96 and '97-'98 women's basketball teams will be introduced.
For more information, visit the Homecoming Week website, www.minotstateu.edu/alumni/homecoming.shtml, or call student activities at 858-3987, advancement at 858-3373 or athletics at 858-3041.
---