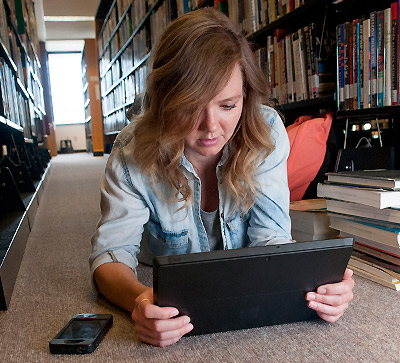 Skills Needed in the Online Environment
We have already briefly discussed some of the skills needed in the online environment, such as self-motivation, assertiveness, and good writing skills. Now we will discuss these and some others more in-depth.
Time Management
University students do not all have the same circumstances and responsibilities that other students have. Some students have to balance their schoolwork with a career and family and this can be challenging. To be successful, these students must be motivated, committed, and organized. They need to make a schedule for accomplishing assignments and tests and follow it. Below are some tips to be successful. Some are obvious, but they are good reminders.
Design your strategy for your online course in the same format as a campus course.
Pick three 60 minute periods during the week and dedicate them to attendance in your online class.
Establish set study times, make them part of a weekly routine.
Plan your courses from hardest to least difficult, and plan more time for the difficult courses.
Plan a "cooling off" period between virtual classroom work and studying.
Review your calendar a week in advance, making any necessary changes.
When tests are planned, adapt your schedule for extra study time.
Carry study materials with you and use any 'dead time' to study.
Build time in your schedule for weekly exercise, date night, or family night. This will force you to walk away from the course work, rejuvenate, and spend quality time with family and friends.
Consider your schedule a firm but flexible guide.
Technology Skills
A basic level of technical competence is necessary for the online learner. In order to be successful as an online student, you must maintain access to a reliable computer, with Internet access, throughout your course. Some courses also have other requirements, so know what is required before you start. These requirements can be found on the Schedules page.
Learning Styles
Online learning is an adventure that will expose you to some entirely new - and not always comfortable - experiences. The ability to be flexible and remain open minded is critical to having a positive experience as you move into this uncharted territory. You need to be an active learner - one who is willing to shape your life and direct your studies. Also being a visual learner, who is able to learn easily from reading and writing, is another plus.
Online learning is great for some, but it is not for everyone. The Illinois Online Network has created a Self Evaluation for Potential Online Students that will provide you with feedback on how well your circumstances, lifestyle, and educational needs match the characteristics of a successful online student. We encourage you to take a look at it.
Other Important Things to Know
MSU offers a variety of services to students. You can find links on the Students Services web page. Below are also some links to additional resources. These are always available, so feel free to refer back to them.
When in your online courses, be polite and respectful. Even though you cannot physically see your instructor and classmates, you are dealing with a real person. Keep in mind the basic rules of Netiquette. You need to be prepared to work together with other students whether it be reading their work or with group projects. Have fun with your online course, you will get out what you put in to it.
Always keep copies of your homework on your hard drive or USB storage drive. This way if something is missing, you will have a copy of it. (Instructions to Backup Assignments)