Minot State Online
Out of State Students Interested in an Online Degree from Minot State University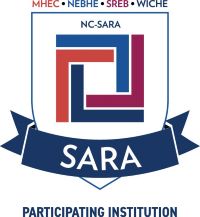 State laws require colleges and universities to be authorized to offer online degree programs in the states where their students reside. This authorization can be obtained by seeking authorization through the individual state or by participating in a reciprocity agreement such as the National Council for State Authorization Reciprocity Agreements (NC-SARA). Minot State University (MSU) became a SARA institution in June 2014, allowing MSU to offer online programs to residents in other SARA states. Below is a list of states where MSU is authorized to offer online degree programs through SARA or through individual state authorization. This applies only to students in the United States.
Licensure Programs: Authorization to offer online degree programs does not automatically imply that a program will lead to licensure or certification in a state. Please pay careful attention to the following information about specific online programs: 
The BSN Completion admits individuals who have a current unencumbered registered nurse license in their state of residence. Therefore, the BSN Completion Program does NOT lead to a professional licensure in your state of residence.
The Master of Education program alone does not meet state teacher licensure or certification requirements.
The Master of Science in Special Education fulfills licensing requirements in the State of North Dakota and North Dakota is part of the National Association of Directors of Teacher Education and Certification (NASDTEC) Interstate agreement. Please review the list below to see if Minot State has made a determination if this program will meet your state's licensure requirements. Due to complex licensure requirements that vary by state and are constantly changing, Minot State has not made a determination in every state. However, Minot State will make every effort to help prospective students determine if our program will meet a state's licensure requirements. Please contact MSU Online to express interest in determining if the MS in Special Education can meet your state's requirements for licensure. To find your state's licensing agencies and review their requirements, please refer to the list of licensing agencies by state on the NASDTEC web site.
This information is provided in compliance with the State Authorization Reciprocity Agreement.
A
C
D
F
G
H
I
K
L
M
N
O
P
R
S
T
U
V
W