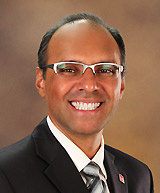 Division of Music
Dr. Carlos Vieira
Assistant Professor, Director of Choral Activities
Office: Old Main 124
Email: carlos.vieira@minotstateu.edu
Phone: 858-3190

Brazilian musician Carlos Vieira joined the faculty of Minot State University in 2016 as Director of Choral Activities, including Concert Choir and Women's Chorus. An experienced singer and choral conductor, Dr. Vieira's interests and expertise encompass a wide range of areas.
His main fields of research are related to Brazilian and Latin American choral music. His doctoral research was dedicated to Brazilian composer Ronald Miranda. With years of experience in different choral settings, Dr. Vieira has developed an extensive variety of creative and engaging rehearsal techniques and a wide choral repertoire.
Son of a Methodist minister and an organist, he has been singing in choirs since he was 3 years old. Early music has been a consistent focus in his singing career, highlighted by his 15-year collaboration with Brazilian early music ensemble Il Dolce Ballo, with which he recorded two CD's. Dr. Vieira also has a prolific career as performer of art songs and opera. His singing activities have taken him to diverse countries such as Bulgaria, Italy, Germany, Spain, Portugal, Brazil, Argentina, and the USA. He earned his Bachelor's in vocal performance at São Paulo State University and won awards in several contests, including the VII Brazilian Art Songs Performance Championship and the VIII Bidu Sayão International Vocal Competition.
From 2001 to 2012, Dr. Vieira was Director of Music Ministries at São Paulo Evangelic Cathedral, the most important church for traditional sacred music in Brazil. In that position, he conducted eight different choirs, including middle and high school age groups, and social projects with children in state of extreme poverty. Between 2008 and 2010 he was organizer and producer of São Paulo Sacred Music Festival. Dr. Vieira completed his DMA in Choral Conducting at the University of Alabama in 2016. He is an active member of ACDA and World Federation of Choral Music.
He lives in Minot with his wife Leticia, a professional dancer specializing in contemporary styles.