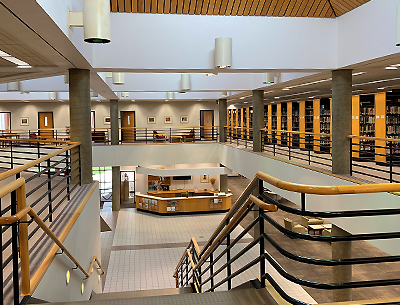 Find Books
→ ODIN [bundled as a part of the ODIN consortial statewide package]: Gordon B. Olson Library's catalog (no government documents are included in this catalog).
(Search for government documents in ODIN)

To log into the library's databases from off-campus, you now use your regular NDUS credentials (the same credentials you use to get into Campus Connect, BlackBoard, e-mail, etc.).
→ WorldCat  We have resumed full interlibrary loan services. Items (non-electronic) can be picked up via curb side pick-up. Please e-mail Jolene Nechiporenko for details. jolene.nechiporenko@ndus.edu 
--[WorldCat is bundled as a part of the ODIN consortial statewide package]: A worldwide library catalog (has access to books and other materials but not articles) that includes the catalogs of 72,000 libraries in 171 countries. (Requires ID for access from off-campus.)
→ Dissertations & Theses @ Minot State University [Paid for by fees assessed MSU graduate students who upload their theses to this product.] Searches only MSU theses. Coverage begins in 2017. (Requires ID for access from off-campus.)
→ WorldCatDissertations [bundled as a part of the ODIN consortial statewide package]: A catalog of all dissertations and theses available in WorldCat. (Requires ID for access from off-campus.)