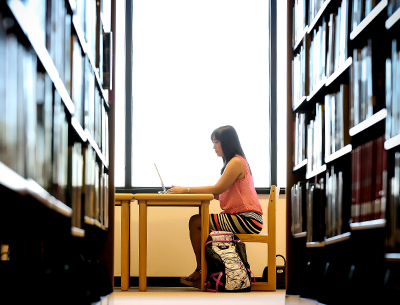 Distance Students' Library Services
Welcome to the Library!
The Gordon B. Olson Library is committed to providing quality library services to all MSU students and faculty. These services extend to MSU students taking online classes as well as students enrolled in MSU classes at remote sites.
THE FOLLOWING ARE SOME OF THE SERVICES AVAILABLE TO DISTANCE STUDENTS:
Access to Library Databases from Off-Campus
Distance students may login to the library's databases to find article research. Database access requires a login number (student ID number without the W) and password (student's last name in lowercase letters).
The Gordon B. Olson Library provides access to a number of indexes and databases for specific fields such as business, education, humanities, criminal justice, natural sciences, technology, and the social sciences. General databases with select full-text content are also available and include:
Reference Service
Reference assistance extends to all distance MSU students and faculty. Reference librarians may be contacted by phone, or email. Ben Bruton is the library contact for all distance students.
To contact him by phone: (701) 858-3013
To contact him by email: ben.bruton@minotstateu.edu or Ask a Librarian.
Interlibrary Loan
Interlibrary Loan is a service provided to all students, faculty, and staff of Minot State University. Distance students can use interlibrary loan to obtain materials that are available from libraries other than the Gordon B. Olson Library. Items can be ordered through interlibrary loan through the databases, through our interlibrary loan page, the ODIN catalog, or the WorldCat catalog. Most databases will have an ILL link that says "ILL" or "Order through ILL."
» When ordering journal articles, typically the database will fill in the citation information for you; all you have to do is include your contact information and student ID number.
» Distance students can also obtain materials that are either in the Gordon B. Olson Library's collection or not in the collection by visiting the interlibrary loan page on the library's web site. You can order a book (or video or dvd or cd, etc.) or an article or all of the above from these links.
» If you are ordering something through the ODIN Catalog, pull up the Full View of the record for the item you want and you will see the link "ILL Request" in the blue tool bar. Click this link and follow the instructions to submit your request.
» If you are searching in WorldCat, pull up the detailed record of the item you want and you will see a button toward the top of the page on the left side that says ILL and appears to have two small buildings with arrows in it. Click this link and follow the instructions to submit your request.
If you are having trouble submitting a request or have questions, please feel free to contact Jolene Nechiporenko, the Access Services Librarian. To reach her, you can send an email to jolene.nechiporenko@minotstateu.edu or call 1-800-777-0750 (ask for extension 3868).
Don't forget: If/when you have questions, contact us!   Good luck with your studies!