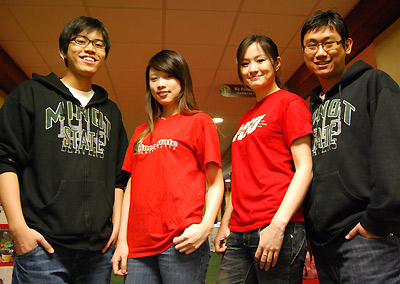 Office of International Programs
First Year International Student Application Checklist
International students who have not already completed more than 24 credit hours of university level course work are considered FIRST YEAR STUDENTS. Students who have complete 24 or more credit hours of university level course work MUST apply as transfer student.
$35 U.S. application feeIf you didn't already pay your application fee online when you submitted your application, you may call Enrollment Services at +1-701-858-3350 with your credit card information. You may also pay by a U.S. check or money order. Make the check or money order payable to Minot State University and note the applicant's full legal name as it appears on driver's license/passport.



Current high school transcripts
Students who attended a high school outside of the United States must submit an official transcript from the institution reflecting all courses attempted and grades received. To be considered official, transcripts must be sent to Minot State University by the issuing institution. Transcripts sent to Minot State University from the student are not considered official and will not be used to make an admission decision.

Students that have taken the West African Exams may send a copy of their WAEC Senior School Certificate showing all tests taken and all grades received. In addition, scratchcard information will also need to be provided.

Students who have taken the Cambridge International Examinations may forward a copy of their exam results to Minot State so that official results can be pulled from the Cambridge database. If results are not available on the Cambridge database, official results will have to be mailed to Minot State directly from Cambridge.

All transcripts must be issued in English or be accompanied by a literal word-for-word translation completed by a certified translation agency.



Photocopy of the page containing your personal information from your Passport.
This information will be used to create your form I-20.


Send Application Materials to:
Enrollment Services
Minot State University
500 University Ave West
Minot ND 58707 USAFax: 701-858-3888


Application Deadlines
For best consideration for admission be sure to submit your application by the following deadlines:

Fall semester (August start)

: Submit your application and all supporting documents by June 15.

Spring semester (January start)

: Submit your application and all supporting documents by October 15.

After these dates, applications might still be considered.
Notification of Application Status
You will receive an email notifying you of your admission status within two weeks after you submit all of the required documents. Full acceptance is not granted until all requirements are met.

Upon receipt of all required documents and offer of acceptance, you will receive instructions on how to register for New Student Orientation. During orientation you will meet with an advisor, enroll in classes and learn about the campus. Welcome Week events during the weekend before the first day of classes will serve as an opportunity for you to explore the vast array of resources available at MSU, including academic, cultural, social, athletic and community service programs.
In the meantime, please check out Steps for Admitted International Students.
Page last updated: July 10, 2018