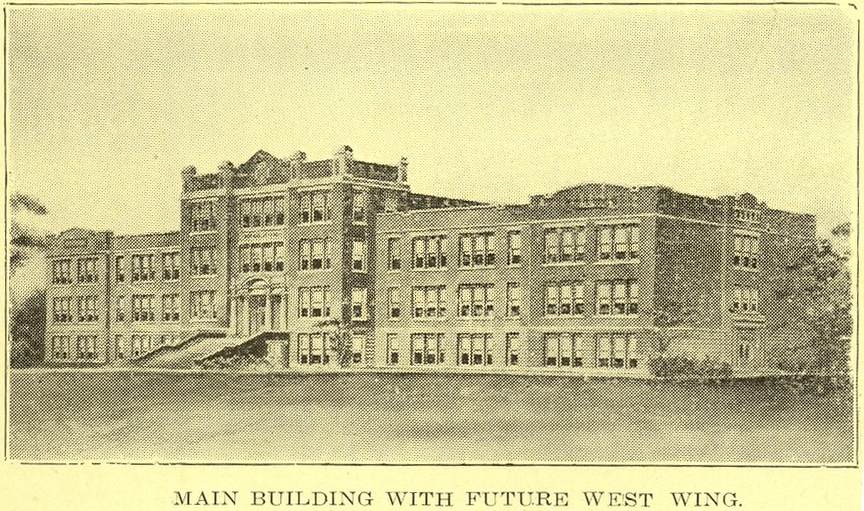 Picture of Old Main from the first (1913-1914) Minot State catalogue.
History Department
Welcome – Make History with Us!
We offer a variety of courses and small classes unmatched anywhere in North Dakota, as well as opportunities to learn outside of the classroom. Build a portfolio of life-long skills through internships, conference presentations, local museum work, and oral history and digital humanities projects.
Earn either a History B.A. or a History B.S.E. while working with talented faculty and the latest in research technology.
To learn more, contact the History Coordinator, Joseph Jastrzembski.
Curious about Pre-Law? Contact Daniel Ringrose, Division Chair, to learn about selecting a major with strong preparation for law school.
For enrollment or registration information, go to the Enrollment Services site or the Student Success Center.
Where to find us on the MSU campus:
The History program is part of the Division of Social Science, which is located on the second floor of Old Main. You will find history faculty member's offices in rooms 201 and 202 on both sides of the hall at the east end of the second floor.
Current News
On October 11, 2017, Mary Murphy, the great-niece of long-time Minot State University professors Lester and Eva Hartnett, donated to the Minot's Common Heritage project letters that Lester Hartnett wrote to his sisters while serving in World War I. These letters will be digitized and preserved as part of that NEH grant-funded project. You can read more of the story at the Minot Daily News site.
Ernst Pijning Featured for Research on Diamond Smuggling
Minot State University's front page profiles features a profile of professor of history Dr. Ernst Pijning and his "globe-trotting" research into diamond smuggling and the diamond trade that connected the Netherlands, Portugal, and Brazil. Find out more and see pictures of Dr. Pijning in the archives in Portugal and Brazil here.
Making Sense of Friday the 13th
Assistant professor of history Dr. Mark Singer talked on October 12, 2017 with Becky Farr of KXMD-TV about the origins of "unlucky Friday the 13th." You can read the story and watch the video here.
Professor and Students Locate Campus World War I Memorial
Extensive research by professor of history Dr. Joseph Jastrzembski and his students has uncovered information about the former campus memorial garden created to honor MSU students Fred Otis Cooper and Henry Finn, who died in World War I. A fund has been set up to restore this memorial to the campus, and the League of Social Science is dedicating funds from their popular Manic Chili Wednesday chili cookoff fundraiser to the purchase of one of the two memorial trees. Visit the Minot Daily News to read about the search.
Previous News
Minot's Common Heritage Scan Day at the Minot Public Library
History Courses for Fall 2018

Western Civilization I
US History to 1877
US History from 1877
World Civilizations to 1500
World Civilizations Since 1500
Modern World Origins
History of Africa
Introduciton to Public History
Colonial America
Medieval and Early Modern Women
The Early Middle Ages
Image credits: Minot State Normal School, "Minot State Normal School Main Building Still Image," Digital Minot: An On-Line Museum of Local History, accessed August 20, 2018, http://digitalminot.minotstateu.edu/dm2015/items/show/1599. (top right); Dr. Ernst Pijning, Ajuda Palace in Lisbon, Portugal, Summer 2017 (bottom center).