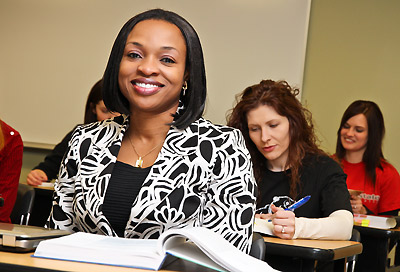 Educational Specialist in School Psychology
Admission Standards:
Undergraduate requirements:  bachelor's degree with strong background in education, psychology, or both
GRE-General Subject:(minimum of 286 combined in verbal and quantitative reasoning)
GPA-cumulative: 3.00
English Proficiency (Non-Canadian International Applicants Only):  TOEFL:  79;  IELTS:  6
Application Packet Deadline: Fall Intakes Only
January 15-Priority given to application packets completed by this date; continue to take applications through March 15.

The Education Specialist in School Psychology prepares students for certification as a School Psychologist by the State of North Dakota. Graduate students participate in a rigorous three year program. The program emphasizes hands-on experiences culminating in a one year, 1200 hour internship. The program also emphasizes rural school psychology in the coursework.
Required Courses
Required Courses:
ED 540 Reading: Advanced Diagnosis and Remediation
2 SH
ED 541 Clinical Practice in Remedial Reading
2 SH
SPED 542 Methods and Materials of Teaching the Developmentally
3 SH
SPED 550 Special Education Assessment
2 SH
SPED 533 Clinical Practice
1 SH
SPED 561 Behavior Problems of Exceptional Children
3 SH
SPED 572 Methods of Teaching the Learning Disabled
3 SH
PSY 503 Statistics
3 SH
PSY 511 Human Growth and Development
3 SH
PSY 512 Research Design and Measurement
3 SH
PSY 513 School Psychology Research Seminar
2 SH
PSY 514 Individual Cognitive Assessment
4 SH
PSY 518 Psychopathology of Children
3 SH
PSY 525 Role and Function of the School Psychologist
3 SH
PSY 533 Social and Behavioral Interventions in School
3 SH
PSY 584 School Psychology Practicum I
3 SH
PSY 585 School Psychology Practicum II
3 SH
PSY 586 Clinical Experience
3 SH
PSY 590 Counseling Skills
3 SH
PSY 592 Special Topics--Seminar in School Psychology
3 SH
PSY 592 Special Topics--Diversity in the Schools
3 SH
PSY 597 Thesis (optional)
3 SH (min)
PSY 598 Internship
6 SH
PSY 599 Internship
6 SH
 
 
Minimum Total Graduate
Program Credits Required
70 SH
» Course Descriptions
» School Psychology Department website
Program Director:
Dr. Joseph Engler
joseph.engler@minotstateu.edu
701-858-4262