Careers in the Geosciences
If you're unsure what major to declare at Minot State University, the Geoscience Department wants to talk to you about Geology. With recent oil booms in the state and the current slowdown in oil production only due to current low prices (which we predict will be back into production range by this summer), geologists will be in short supply in North Dakota in the near future. Forbes recently ranked the Geology major 7th out of the top 15 most valuable undergraduate college majors. It's easy to see why this is with a starting average pay (with a Bacchellors' degree) around $45,000 and a median career income around $83,0001. Geology and Geoscience graduates leave universities with an impressive array of coursework, are imminently employable, and are among some of the most satisfied of all university students (up to 95% satisfaction rate) a recent survey has found2.
Have you ever been hinking somewhere and seen a rock and wondered what it was? Do you like being and working outside? Are you a independent and capable of being self-directed (in other words, do you like the idea of not having a boss always telling you what to do)? Do you like understanding how things work? Do you have more rocks in your windows at home than plants? You might want to consider turning your interests into a career as a geologist!
What Do Geologists Do?
A better question would be what don't geologists do. Geologists study solid earth materials and processes, fossils and organismic evolution, the environment, the atmosphere and circulation, glaciers, the oceans and their circulation, energy and mineral resources, the chemistry of bodies of water, sediments and where they come from, minerals and gems and how these form, and global climate change - among many, many more sub-specialties. There are entry-level positions in all of these areas for people with a geology background and a bacchellors degree. What are some of the things that you could be doing with a degree in Geoscience?
Here is a small sampling of what our graduates have done with their B.A. in Geoscience from MSU!
---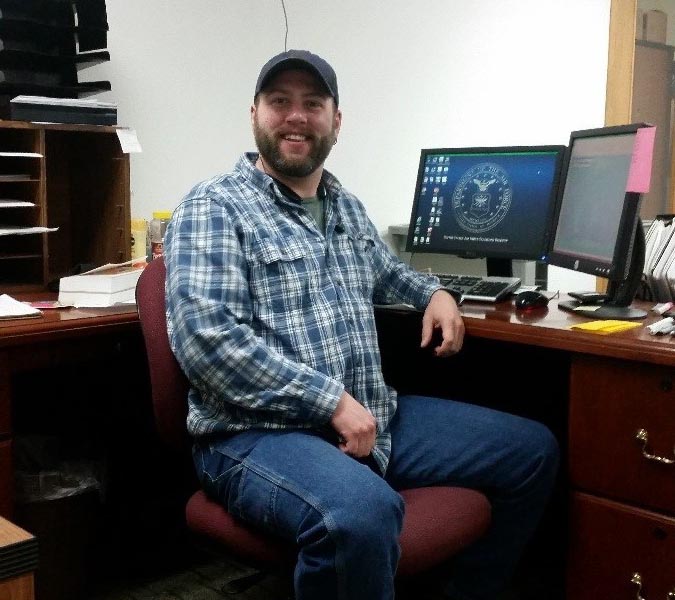 Thomas Filkins (2015)
Thomas works for Earth Resources Technology as an Environmental Consultant. "ERT is a trusted partner to the government, providing scientific analysis and modeling, engineering, information technology, and environmental services and solutions to NOAA, NASA, DoD, USGS, the Army Corps of Engineers, and other Federal and state government agencies."3
"I am currently working on Minot AFB as an environmental field scientist with Earth Resources Technology. I collect and analyze data from air emission measurements, soil and water samples to curtail the influence of military operations on the environment. I also perform research, do audits, and investigate potential violations, to develop processes and plans to further reduce the amount of damage to the local environmental. We also provide oversight of any hazardous materials accumulation points and central location through the preparation of waste generation documents and reports, facility inspections and waste characterization.
---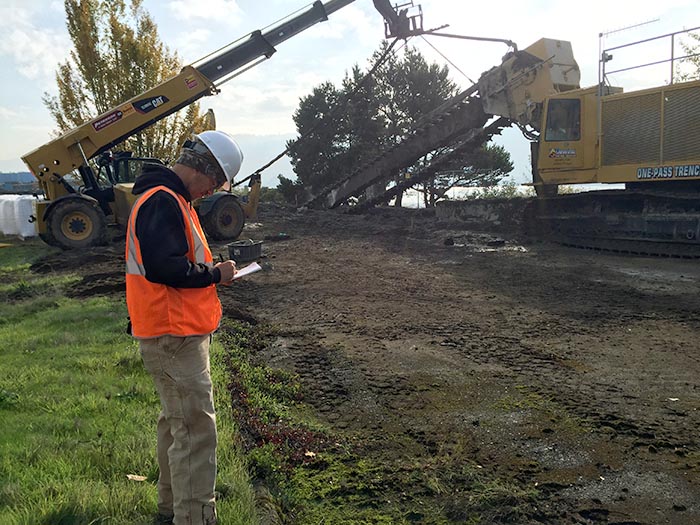 Justin Dauphinais (2001)
Justin is a Project Geologist in Portland, Oregon, with Environmental Resources Management (ERM), a leading global provider of environmental, health, safety, risk, social consulting services and sustainability related services. ERM has more than 160 offices in over 40 countries and territories employing more than 4,500 people who work on projects around the world. He has been working in the Environmental and Geoscience Industries  for over 14 years.  Some of  Justin's work duties include managing and implementing a variety of investigation and remediation technologies for multiple media, as well as experience conducting environmental studies and remedial investigations and assisting in developing solutions for impacted media.
"I enjoy my job tremendously for the wide range in diversity of projects I have worked on and places I have had the opportunity to travel to and see. I usually have an approximate 60/40 split of office to field time which works really well for me and my family. I have managed, completed technical reports, and completed field work on numerous sites in Oregon, Washington, California, Alaska, and Idaho.  I have performed work on a range of project sites, including ports/harbors, bulk fueling facilities, active gasoline stations, industrial manufacturing facilities, semiconductor facilities, metal processing facilities, wood mills, agricultural facilities, airports, active military installations, food manufacturing plants, and remote abandoned properties. These projects have involved working with impacted soil, groundwater, sediment, storm water, air and providing environmental health and safety (EHS) support. 
---
Another of our recent graduates works in the Black Hills National Forest as a Hydrology Technician. She is responsible for collecting and testing water samples, and for monitoring potential problems related to waterways in the Black Hills National forest - talk about a spectacular place to work!
1. 2012. The 15 Most Valuable College Majors. Forbes.
2. 2015. National Student Survey. Higher Education Funding Council For England.
3. Earth Resources Technology website. https://www.ertcorp.com/
site maintained by J. Collette