Communication Disorders
Communication Disorders Clinic
A full range of services are available for both children and adults in a modern state-of-the-art facility. Evaluation and treatment are performed by undergraduate and graduate students under the supervision of clinical supervisors certified by the American Speech-Language-Hearing Association (ASHA) and licensed by the State of North Dakota.
Don't let a communication disorder interfere with academic, vocational, or social goals.
Services include:
NEW! — SPEAK OUT!® & The LOUD Crowd® — a two-part speech therapy program to help individuals with Parkinson's regain and maintain effective communication.
Evaluation and treatment of articulation/phonology, fluency, language, nonverbal communication, and swallowing.
Voice evaluation including rigid/flexible videolaryngealstroboscopy and acoustic parameters. Intervention services focus on a variety of voice disorders to improve vocal strength, quality, and endurance.
Basic hearing assessments including pure tone audiometry, speech audiometry, and acoustic immittance for patients of all ages. Otoacoustic emissions and auditory processing evaluations are also available.
Aural rehabilitation for individuals who are deaf/hard of hearing.

GreatPALS Clinic link (Aural Rehabiliation Clinic)
Treatment programs are individualized to meet client's needs.
Contact Us:
For an information or to make an appointment call Donna, Clinic Operations Manager, at 701-858-3030.
Clinic Location
The clinic is located on the first floor of Memorial Hall on the Minot State University Campus. Memorial Hall is just south of the Dome and east of Harnett Hall. Clinic parking is available in the loop in front of Memorial Hall and on the street across from Memorial Hall. Look for marked signage to assist you in finding clinic parking slots. A parking permit will be issued by our Clinic Operations Manager for therapy sessions or evaluations.
Clinic Operation Hours
Office hours are 8 a.m. to 4:30 p.m. Monday through Friday. The clinic schedule coincides with the university academic calendar because the clinic is an educational facility. Therefore, services are typically not available for brief periods between semesters.
Clinic History
The original program in speech-language pathology was developed under the guidance of Dr. Edna Gilbert. During her tenure from 1930 to 1971, she established a clinic for treatment of speech and language problems. Over the years, the training programs in speech-language pathology and audiology grew, and the clinic currently serves approximately one thousand persons yearly for evaluation and treatment in speech-language pathology and audiology. Several settings, such as public schools and area centers in off-campus locations, provide supplemental services. The Communication Disorders Clinic functions as part of the Department of Communication Disorders within the College of Health and Sciences.
Therapy/Assessment Costs
The Minot State University Communication Disorders Clinic is a non-profit service, academic and research facility funded partly by state appropriated funds. However, a fee schedule is in place to provide funds to purchase, maintain, and replace materials and equipment necessary for effective and efficient clinic operation. Services are provided free of charge to MSU students, faculty, and staff. Insurance may also be submitted for service costs.
Client Discrimination Policy
Minot State University Communication Disorders Clinic complies with the provision of the Civil Rights Act of 1964 and Section 504 of the Rehabilitation Act of 1973 and all requirements discussed within. Admissions, the provisions of services, and referrals of clients shall be made without regard to race, color, religious creed, disability, ancestry, age, sex, or national origin (including limited English proficiency).
Accreditation:
The Master's of Science in Communication Disorders: Speech-Language Pathology program at Minot State University is accredited by the Council on Academic Accreditation in Audiology and Speech-Language Pathology of the American Speech-Language Hearing Association, 2200 Research Boulevard, #310, Rockville, MD 20850, 800-498-2071 or 301-296-5700. The Department also offers a Post-Baccalaureate Program for individuals who have an undergraduate degree in a discipline other than Communication Disorders and who desire to apply for admission to a graduate program in speech-language pathology.
   
SPEAK OUT!® & The LOUD Crowd®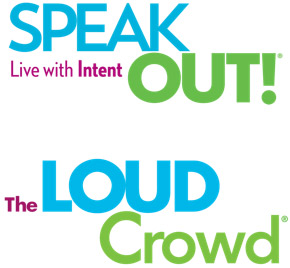 Minot State University Communication Disorders Clinic is pleased to offer a two-part speech therapy program to help individuals with Parkinson's regain and maintain effective communication: SPEAK OUT!® followed by The LOUD Crowd®.
SPEAK OUT!® places emphasis on speaking with intent and converting speech from an automatic function to an intentional act. Together, patients and their speech-language pathologist work through a series of speech, voice, and cognitive exercises outlined in a SPEAK OUT!® Workbook. 
Upon completion of SPEAK OUT!®, patients transition to The LOUD Crowd®. This maintenance program consists of weekly group sessions led by a speech-language pathologist. The SPEAK OUT!® exercises are performed, and group members provide support, encouragement, and accountability to one another.
Participation in The LOUD Crowd®, along with daily home practice and six-month re-evaluations, has been shown to help patients maintain their communication skills throughout the progression of Parkinson's. For more information about SPEAK OUT!® and The LOUD Crowd® or to schedule a speech evaluation, please call Donna, our clinic operations manager, at 701.858.3030.