Minot State set for Homecoming 2023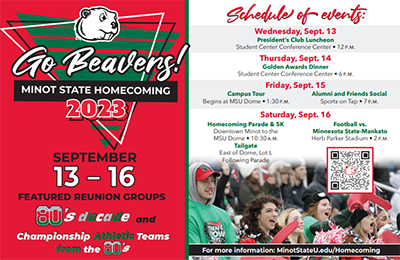 MINOT, N.D. – Minot State University will host multiple events during Homecoming 2023 held Sept. 13-16.
"It's very exciting for me to welcome all our alumni, family, and friends to this year's Homecoming events," said Courtenay Brekhus, Minot State's director of alumni engagement. "This is a special time of year for the University every year and we hope everyone can make it to as many events as possible."
The week's signature MSU Alumni Association and MSU Development Foundation events begin with Wednesday, Sept. 13's President's Club Luncheon at the Student Center Conference Center beginning at noon.
MSU's annual Golden Awards Dinner will be held Thursday, Sept. 14 at the Conference Center at 6 p.m.
Friday, Sept. 15 features a Beaver Athletic Luncheon at the Minot State Dome starting at 12 p.m., campus tours beginning at the MSU Dome at 1:30 p.m., MSU Athletics Hall of Fame Banquet at the Grand Hotel starting at 5 p.m., and an Alumni & Friends Social at Sports on Tap in Minot starting at 7 p.m.
Minot State football will take center stage on Saturday, Sept. 16 with its annual Homecoming game at Herb Parker Stadium, taking on Minnesota State-Mankato at 2 p.m. Saturday's events begin with the Homecoming Parade and 5K starting in Minot's downtown at 10:30 a.m. and finishing at the MSU Dome. Tailgating will follow the parade at Lot L east of the MSU Dome. There will be a reunion social Saturday evening at Barley Pop in Minot following the football game.
More events from various athletic teams, departments, and clubs at MSU are planned during Homecoming 2023 and can be viewed at the Minot State CALENDAR.
The featured reunion groups this year are from the 1980s decade and championship teams from the 80s.
For more information on Homecoming 2023, see the MSU Alumni Association's WEBSITE.
About Minot State University
Minot State University is a public university dedicated to excellence in education, scholarship, and community engagement achieved through rigorous academic experiences, active learning environments, commitment to public service, and a vibrant campus life.
---