Ann Nicole Nelson Hall site for 2023 Recovery Reinvented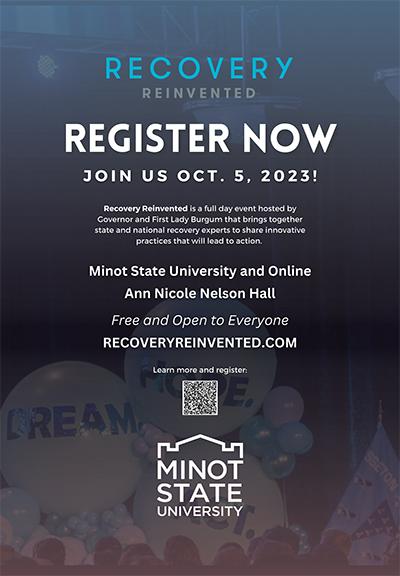 MINOT, N.D. – Minot State University's Ann Nicole Nelson Hall will be the site for the seventh annual Recovery Reinvented hosted by North Dakota Gov. Doug Burgum and First Lady Kathryn Burgum.
Recovery Reinvented, an event dedicated to eliminating the shame and stigma of the disease of addiction, will be held Thursday, Oct. 5 starting at 8 a.m. with registration at MSU's Old Main and opening remarks in Ann Nicole Nelson Hall scheduled for 9:30 a.m. The event is free and open to the public. Registration is required and is currently open for both in-person and online attendees via EVENTBRITE.
"We are so pleased to be hosting Recovery Reinvented on the MSU campus," said Minot State University President Steven Shirley. "This is such an important dialogue focused on a subject that can have a significant impact in every corner of the state. As the only campus in the North Dakota University System with a degree in addiction studies, MSU is a natural host as students have been coming here for decades to pursue their studies in areas related to addiction and recovery."
This will be the first time the event is held in Minot, having previously been hosted in Bismarck three times, once in Fargo, once in Grand Forks, and virtually in 2020. The daylong event will feature state and national addiction and recovery experts who will focus on reinventing recovery through the sharing of stories, creating recovery-friendly cultures in the workplace and community.
"We continue to build on the message that storytelling is one of the most powerful tools we have to end the stigma surrounding addiction," First Lady Burgum said in a press release. "Bringing this experience to the community of Minot will allow us to lift up more faces and voices of recovery and inspire people to know that recovery from addiction is possible."
The keynote speaker lineup includes:
Lipi Roy, an internal medicine physician who is board certified in addiction medicine. Roy is the founder of SITA MED, an addiction/health speaking company, as well as a sought-after international speaker, media personality, and host of the YouTube series "Health, Humor and Harmony."
Stephen Loyd, chief medical officer for Cedar Recovery in Tennessee and the current chair of the Tennessee Opioid Abatement Council, appointed by current Tennessee Gov. Bill Lee. Loyd has been in recovery from opioid and benzodiazepine addiction since July 8, 2004.
Scott Davis, who served as executive director of the North Dakota Indian Affairs Commission from 2009 to 2021, serving three governors and 23 tribal chairs. Davis is 17 years sober.
"As I enter 17 years of sobriety, day by day I am thankful to Creator for a beautiful life, I am also grateful and excited to share my story at this year's Recovery Reinvented," Davis said in a press release.
The speakers' full bios can be found on Recovery Reinvented's WEBSITE.
About Minot State University
Minot State University is a public university dedicated to excellence in education, scholarship, and community engagement achieved through rigorous academic experiences, active learning environments, commitment to public service, and a vibrant campus life.
Published: 09/22/23   
---