A-Maze-ing design: Minot State featured on Berry Acres 2023 corn maze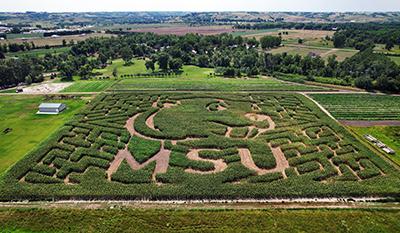 MINOT, N.D. – Minot State University was selected by Berry Acres Pumpkin Patch as its 2023 corn maze design, the local business revealed on social media Thursday.
The design featuring the Minot State athletic logo and MSU was cut by Precision Mazes and will be open to the public beginning Sept. 9. Berry Acres is on Country Road 15 just west of Minot.
DRONE FOOTAGE 001
DRONE FOOTAGE 002
"When we don't have a specific sponsor for the maze, we like to do something that is community related," said Ashley Berry, owner of Berry Acres. "A few years back we did Minot High, and we thought it was time to do Minot State Beavers. I think it turned out great and the logo works really well in the corn maze."
Berry contacted Sal Rodriguez, assistant athletic director for revenue and fan development, in March to see if the University would be interested. Other than some concern in the reproduction quality of the logo, it was an emphatic "yes."
"At first, we had some concern that the Beaver logo would not look like the actual logo, but it was a very easy yes to give to Ashley," Rodriguez said. "I think this is a great partnership providing us with an exciting way to connect with our community and our campus family."
Any worry over the logo design was quickly put to rest with the work of Precision Mazes, a Missouri company that professionally cuts and designs mazes all over the United States. Berry Acres has used Precision Mazes for all 13 of their fall designs.
"We seed the corn in the middle of May and Precision Mazes comes up to cut it in June," Berry said. "The corn can only be so high when they cut it. Once the maze is cut, we have to keep the walkways tilled, which can be a challenge — just as it is for someone trying to make their way out!"
"After some modifications to add the elements that would turn our logo into a maze, I was sent a final proof and was able to approve it," added Rodriguez. "I think it is safe to say we are very happy with the final product and look forward to visiting it in person!"
Along with the MSU-themed corn maze, Berry Acres features obstacle courses, a corn box, paintball, and a petting zoo, along with many other attractions.
"We are excited for another season to be approaching, it's always so great to see all the families having fun and enjoying fall together," Berry said. "There is so much to do for all ages. Make your way out of the eight-acre corn maze, pick the perfect pumpkin, play on endless bales of fun and slides, race someone on the pedal carts, slide down the tire mountain, see all the bale characters, test your aim on the paintball wagon, go in the glow-in-the-dark paintball shooting gallery and on the zip track, play laser tag, the pumpkin cannon, and more!"
For more information on Berry Acres Pumpkin Patch, see their FACEBOOK page.
About Minot State University
Minot State University is a public university dedicated to excellence in education, scholarship, and community engagement achieved through rigorous academic experiences, active learning environments, commitment to public service, and a vibrant campus life.
---