Minot State to celebrate 108th Commencement Exercises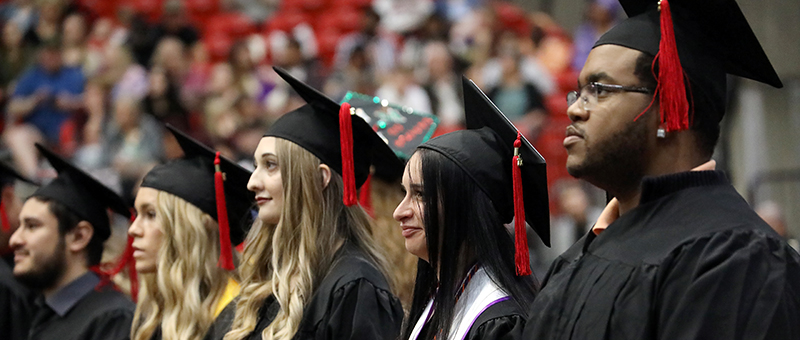 MINOT, N.D. – Minot State University is proud to continue its long-standing tradition dating back to its first graduating class in 1914 by celebrating its 108th Commencement Exercises on Friday, May 12.
"Commencement is a wonderful day at MSU when we acknowledge our graduates while joining with their family, friends, and supporters from near and far to recognize this great occasion," said MSU President Dr. Steven Shirley. "The MSU Class of 2023 is an outstanding group of students, and we look forward to celebrating their many achievements!"
The University will begin the day with a traditional Hooding Ceremony for completion of a master's degree at 8 a.m. in Ann Nicole Nelson Hall. MSU will hold the Spring Commencement Ceremony at 10 a.m. at the Minot State Dome.
For individuals unable to make the two live events, both the Hooding Ceremony and the Commencement will be broadcast via the Minot State YouTube channel. Access the Hooding Ceremony HERE and the Commencement Ceremony HERE.
Guest speakers at Commencement include Randy Hedberg '77, current associate head football coach and passing game coordinator for North Dakota State University; Nadya Keenan '21, current student in the Master of Science in Speech-Language Pathology program; and Paolo Panales, current undergraduate student majoring in biology.
Hedberg, who will give the keynote address, graduated from MSU with a bachelor's degree in physical education and a minor in mathematics. He earned his master's of education in health, physical education and recreation from the University of North Dakota in 1987. He was an accomplished student-athlete at MSU and was an eighth-round draft pick of the Tampa Bay Buccaneers in 1977.
He has been coaching at NDSU since 2014 and was named the FCS national Assistant Coach of the Year by the American Football Coaches Association in 2020-21. Earlier in his career, Hedberg served as head coach of the Minot State football team from 1982-89.
"The Commencement speakers are always an important highlight of each ceremony, and this year is certainly no different," Shirley said. "We look forward to hearing from two terrific students as representatives of our undergraduate and graduate students, Paolo and Nadya, along with the alumni message from 1977 MSU graduate Mr. Randy Hedberg — a legendary coaching figure in the football profession."
Minot State will host a special graduation homepage with additional information on the ceremony, events, gift ideas, social media posts, videos, senior spotlights, and a wall of graduates. Access all online content at MinotStateU.edu/grad. Please use hashtag #MSUclassof23 in all social media posts.
About Minot State University
Minot State University is a public university dedicated to excellence in education, scholarship, and community engagement achieved through rigorous academic experiences, active learning environments, commitment to public service, and a vibrant campus life.
---