Young Composer Competition winner named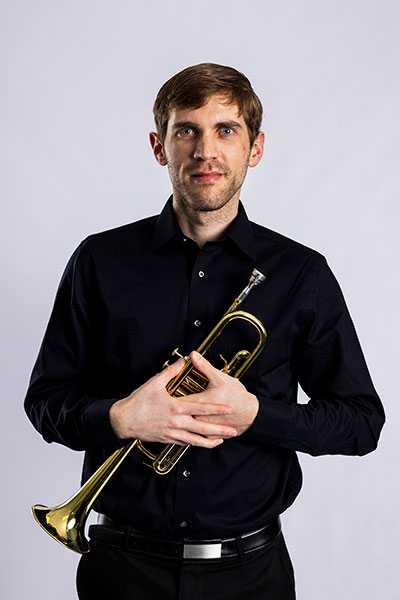 MINOT, N.D. – The Minot Symphony Orchestra announces its 2022-2023 Young Composer Competition winner, Jordan Boehm of Minot.
Boehm, 31, is a teacher for Minot Public Schools. He earned degrees from the University of Mary in Bismarck and the University of Northern Iowa in Cedar Falls. Most recently, he attended the University of Iowa in Iowa City where he completed one year of doctoral studies before placing that on hold to return to teaching. He also plays trumpet in the Minot Symphony Orchestra.
"'Moving On' is my first work for a full symphony orchestra," said Boehm. "Using life experiences as a base of inspiration, it encapsulates the emotions and stresses we all face when dealing with difficult decisions. In this case, I was attempting to decide when the right time to 'move on' had come in regard to some fundamental aspects of what I do.
"The piece takes off at a decent clip, introducing themes that represent the stress and excitement we feel when faced with change, and whether we should push towards it or return to normalcy. After a transitory portion, we arrive at a slower tempo now in a duple meter. Our final themes are introduced, and we pick up the pace as the duple and the earlier triple begin to mingle. We agonize over the decision, and finally have to follow through, whether we are empowered by it, or merely resigned."
Boehm's original composition, "Moving On," will be premiered by the Minot Symphony Orchestra on Saturday, March 4 at 7p.m. in Ann Nicole Nelson Hall at Minot State University. Tickets and information about the performance are available at minotsymphony.com.
The annual Young Composer Composition was started in 2018 and is open to composers age 35 and under living or pursuing music studies in North Dakota, South Dakota, Minnesota, Montana, Wyoming, or Colorado. This year's entries were judged by composers Eddie Mora and John Stevens. Original compositions for symphony orchestra up to 10 minutes in length are accepted annually. The winner receives a $500 cash prize sponsored by descendants of Merritt and Annie Warner and their work is premiered by the Minot Symphony Orchestra.
The Minot Symphony Orchestra is a unique blend of student, community, and professional musicians from the Minot area. The symphony is directed by Maestro Efraín Amaya, assistant professor of music at Minot State University.
This project is supported in part by grants from Arts Midwest and the North Dakota Council on the Arts, which receives funding from the state legislature and the National Endowment for the Arts. This project is also supported by the National Endowment for the Arts and the Minot Area Council of the Arts.
About Minot State University
Minot State University is a public university dedicated to excellence in education, scholarship, and community engagement achieved through rigorous academic experiences, active learning environments, commitment to public service, and a vibrant campus life.
---