Minot State moving forward with $25 million Hartnett Hall renovation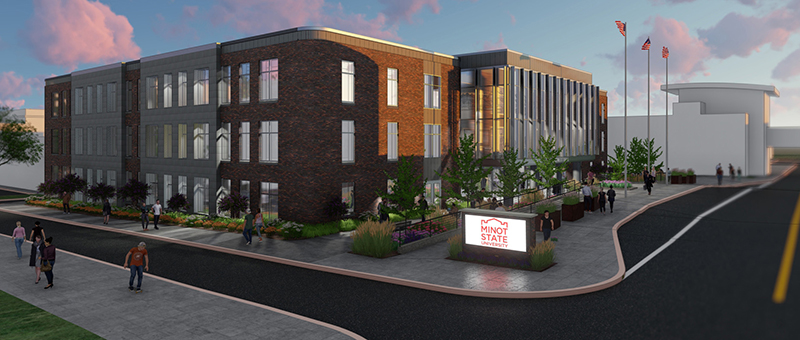 MINOT, N.D. – Minot State University is in the process of a $25 million complete renovation to Hartnett Hall on the MSU campus.
The project began with relocation of Minot State academic departments in May 2022, followed by demolition last summer. Construction is expected to be completed in late 2023 or early 2024 with the newly renovated building being occupied in 2024.
The Hartnett Hall renovation project was awarded by North Dakota Legislature in a special session in 2021 and will utilize American Rescue Plan Act of 2021 (ARPA) funds for a complete renovation of the building.
"Hartnett Hall houses important educational programs at MSU where large numbers of our students in a variety of academic disciplines take classes," said MSU President Steven Shirley. "We are grateful to the North Dakota Legislature and Gov. (Doug) Burgum for supporting this important campus renovation, and look forward to Hartnett remaining a vital campus space for future classes of MSU students."
The project seeks to revitalize and modernize Hartnett Hall, built in the early 1970s, helping to relieve congestion, improve entrances, enhance flexibility of spaces, upgrade ventilation, and improve daylight throughout the building.
Hartnett Hall is home to several key liberal arts programs at MSU such as English, world languages, humanities, art, theatre arts, professional communication — including the KMSU radio station and television studio — as well as many general education courses. The programs displaced by the construction have been temporarily housed throughout campus with Old Main and Swain Hall serving as primary locations.
Through a competitive process, Minot State selected Ackerman-Estvold for the building design and McGough Construction to lead the construction.  The architects and construction managers worked closely with department chairs, faculty, and University administration to design the updated facility.  
As of December 2022, the building design is complete, and interior demolition, including asbestos and environmental remediation, is finished.  Construction has begun and the campus community is seeing the building exterior transform as the front entrance is renovated, new windows are added, and the façade improved to aesthetically blend better with other buildings on campus. The project will update landscaping on the grounds surrounding the building in the spring and summer.
Interior work will be underway for the next 12 months to improve the look and functionality of interior spaces with all new labs, workspaces, classrooms, offices, a new gathering space, and a new recital/lecture hall.  Aleshire Theater will undergo a renovation to upgrade and modernize the 200-seat auditorium and the University plans to house its newly established esports program within the new space.
About Minot State University
Minot State University is a public university dedicated to excellence in education, scholarship, and community engagement achieved through rigorous academic experiences, active learning environments, commitment to public service, and a vibrant campus life.
---