Minot symphony's 97th season brings big changes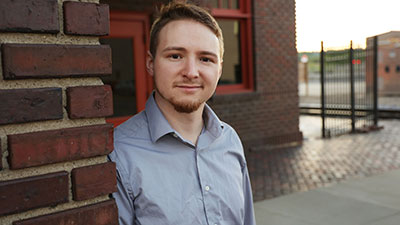 Erik Mychal Anderson will debut "Concerto Nova" at the orchestra's season opener on Sept. 24.
MINOT, N.D. – The Minot Symphony Orchestra will open their 97th season on Saturday, Sept. 24 at 7 p.m. in Minot State's Ann Nicole Nelson Hall.
New this year, the performance will start at 7 p.m., instead of 7:30 p.m. as in the past.
This change will give concertgoers an earlier start for those traveling, more time to socialize with friends following the performance, or to simply get home earlier. The programming is targeted around 80 minutes of music plus a 20-minute intermission, which will also warrant an earlier dismissal than previous years.
Patrons will also notice the addition of two 98-inch high-definition digital monitors in Ann Nicole Nelson Hall. These monitors were purchased and installed thanks to a special grant from SRT Cares, along with supporting funds from Minot State.
These monitors will provide a world of opportunities for the symphony and other performing groups in Ann Nicole Nelson Hall.
"The addition of the two digital monitors will help us provide education to our patrons, are attractive for sponsors' messages to the audience, and will provide many opportunities for the symphony, MSU, and the numerous other community groups that utilize the hall," said Ellen Fenner, Minot Symphony Orchestra executive director. "The symphony concerts will show the livestream vide footage on the monitors during the performance to enhance the patron experience. We are already planning something big in the near future."
"All That Jazz" is the first of the symphony's six concert series for the 2022-23 season.
Other performance dates include Oct. 29, Dec. 10, Feb. 4 at 3 p.m., March 4, and April 29. Programs include works by Glinka, Tchaikovsky, L. Mozart, Mendelssohn, Franck, Williams, Holst, and more.
The season will also feature a guest conductor, North Dakota High School Soloist Competition winner, Minot State Division of Performing Arts Honors Competition winner, and the winning piece from the annual Young Composer Competition.
"I am so excited about this year and to play music that is dear and familiar to me — "The Planets" — music that I absolutely love — "West Side Story" — and music in many different styles and genres written from the 1700s to today," said Christine Baumann, Minot Symphony Association board president and violist. "I think there is truly something for everyone this season, and I invite you to experience it all and broaden your musical horizons along with us."
The season opener on Sept. 24 will feature familiar jazz tunes that will have concertgoers dancing in their season, including Gershwin's "Cuban Overture" and Bernstien's "West Side Story: Symphonic Dances."
The program continues with the world premier of "Concerto Nova," an original composition by Minot native Erik Mychal Anderson. This piece was written for electric cello, which will be performed by his father, Minot State Division of Performing Arts chair and Minot Symphony principal cellist J. Erik Anderson. Electric violins, viola, and bass are also featured in this composition.
Local composer and performer Erik M. Anderson has a passion for music of diverse genres which influence his writing. A fan of jazz, rock, and hip hop, his music often features driving rhythm and expressive melodies, and one can hear the impact of composers Leonard Bernstien and Dimitri Shostakovich.
Creating music that is both personally meaningful and satisfying to the listener and performer is incredibly important to Anderson.
"The electric five-sting cello, along with distortion, wah, and other pedals, offers a complete new and excite palate of colors," said J. Erik Anderson. "Erik's concerto brings together blues, Latin, hip hop, and metal styles, yet with the overall scope and organization of a classical work. So excited to bring something totally new to the Minot State."
Following intermission, Charles Young, Minot State professor of woodwinds and director of jazz studies, will be featured on alto saxophone for "Autumn in New York," which was recorded by Charlie Parker with strings in 1952.
After Young's performance, one of his former students, Minot native Jasmine Spitzer, will join the orchestra to sing familiar jazz tunes recorded by Frank Sinatra, Ella Fitzgerald, Michael Bublé, and Aretha Franklin.
Raised by two music teachers, Spitzer has been surrounded by the love of music her whole life. She grew up watching her family play huge roles in the Minot music community, both in education and performance. With these big shoes to fill, she pursued music education at Minot State University for two years before transferring to Ohio Wesleyan University to continue her studies.
She is now one of Columbus, Ohio's most sought-after vocalists with a reputation for adventurous versatility and an infectious presence on the bandstand. As both a bandleader and a sideman, she has appeared in nearly every live jazz venue in the city and continues to forge her path. Influenced by Ella Fitzgerald, Billie Holiday, and Nancy Wilson, you can hear the classic sounds of the past in her voice.
Tickets start at $30 for adults with active military, senior, and student discounts available. Season tickets, individual tickets, and Pick 6 Flex Passes are available.
The Pick 6 Flex Pass includes six concert tickets for the price of five and can be used for multiple tickets to the same performance or spread out between performances. All tickets are available at www.minotsymphony.com or through the box office at 701-858-4228. Patrons are encouraged to purchase tickets in advance.
Pre-concert talks, which provide an engaging overview of the works being performed, discuss the story behind the music, the composer, and historical context. The talks will be presented one hour before the concert, beginning at 6 p.m. on Sept. 24.
The Minot Symphony Orchestra is a unique blend of student, community, and professional musicians from the Minot area. The symphony is directed by Maestro Efraín Amaya, associate professor of performing arts at Minot State University.
This project is supported in part by grants from Arts Midwest and the North Dakota Council on the Arts, which receives funding from the state legislature and the National Endowment for the Arts.
About Minot State University
Minot State University is a public university dedicated to excellence in education, scholarship, and community engagement achieved through rigorous academic experiences, active learning environments, commitment to public service, and a vibrant campus life.
---