Walker attends Western Governors' Leadership Institute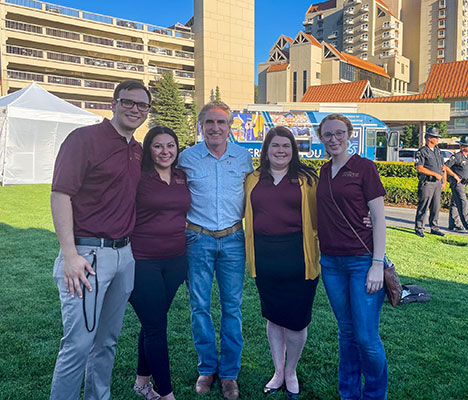 Kaleb Dschaak, Kara Azure, North Dakota Governor Doug Burgum, Minot State alumna Kaitlin Walker, and Aspen Lenning at the Western Governors' Leadership Institute.
BOTTINEAU, N.D. – Kaitlin Walker found herself at the Western Governors' Leadership Institute in Coeur D'Alene, Idaho July 25-28 thanks to an email and a passion to do more as a teacher.
"I first heard about WGLI through an alumni email I received through Western Governors University," the Bottineau High School math teacher said. "My desire to continuously find new ways to be involved in my community and advocate for students on all levels is what prompted my decision to submit the application."
The institute opened with a leadership forum on Monday, July 25 that included leadership development and learning sessions such as advice for young leaders and bipartisanship leadership in a partisan world.
"Some of the notable speakers included former governors, current governors, official government employees, and leaders of industries like our speaker from a major utility cooperation," she said. "The following three days we had the chance to be guests of the Western Governors' Association and participate in their events and meetings. We had the chance to hear from the current governors in attendance as well as four U.S. cabinet members. The rest of the time was spent getting to network with industry leaders and government officials through suppers, social hours, and ceremonies."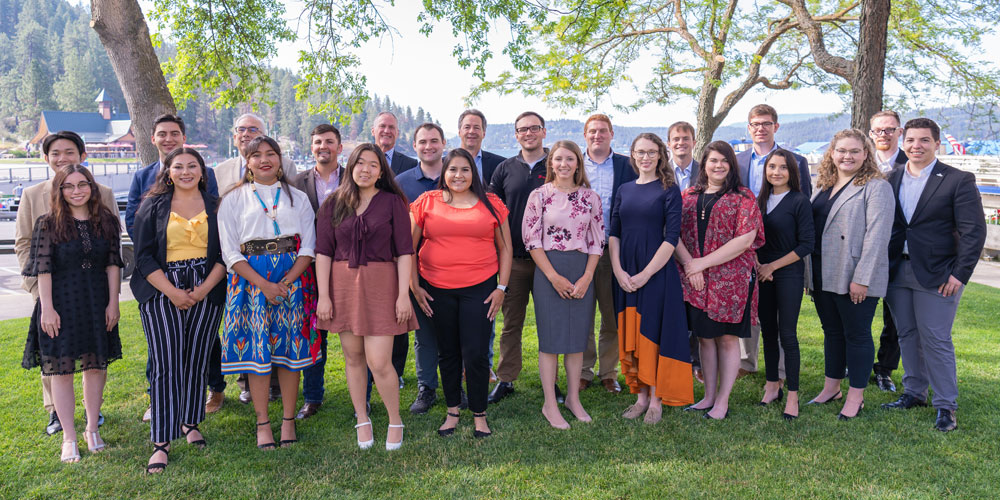 Community involvement has long been important to Walker, including her time at Minot State.
"I loved the many opportunities that Minot State had due to its smaller size," she said. "The small size allowed for personal relationships with fellow students and professors while being large enough for diverse classes and extracurricular activities being possible. I enjoyed being able to be a part of the community at Minot State through clubs such as student government."
Following her graduation from Minot State in December 2019 with a Bachelor of Science in Education with majors in business education and math education and a minor in honors, Walker attended Western Governors University for her master's in education.
It was from her second alma mater that she received the invitation to apply for the leadership institute.
"My favorite part of the experience was the connections and networking opportunities that we had. The leaders were willing to take time from their busy agendas to answer our questions and seek feedback from us," Walker said. "I am hoping to use the experience to continue to pursue leadership opportunities within my community and school district that allow me to advocate for students and other issues that impact our communities."
It should be no surprise that Walker is leading through teaching. Her lineage is full of educators.
"I chose to attend Minot State University because of their scholarship opportunities, along with family that has also attended," the Bottineau High School math teacher said. "I am fortunate to come from not only a long line of teachers in my family, but from a long line of teachers who studied at Minot State University."
About Minot State University
Minot State University is a public university dedicated to excellence in education, scholarship, and community engagement achieved through rigorous academic experiences, active learning environments, commitment to public service, and a vibrant campus life.
---