Phi Beta Lambda excels at National FBLA-PBL Conference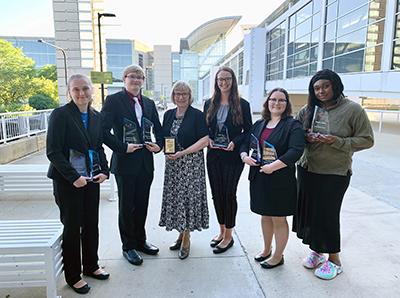 CHICAGO – The Minot State Chapter of Phi Beta Lambda competed at the National FBLA-PBL Conference held in Chicago, June 24-27, with the conference theme, "Success Starts Here."
Over 900 collegiate students from across the country competed, networked, and listened to amazing speakers and engaging presentations. They also enjoyed the flavor of Chicago with bike tours, harbor excursions, and culinary delights.
Congratulations to the following Minot State students for their accomplishments:
Microeconomics: Kelsey McCloud, first place, National Champion
Small Business Management Plan: Tanner Thompson, first place, National Champion
Future Business Executive: Melanie MacPherson, second place
Personal Finance: Kelsey McCloud, third place
Local Chapter Annual Business Report: Tanner Thompson, fifth place
Community Service Project: Melanie MacPherson and Jada Clarke, seventh place
Job Interview: Jada Clarke, seventh place
Future Business Executive: Tanner Thompson, seventh place
The Parade of States during the opening session featured ND Who's Who in PBL, Tanner Thompson, and ND Outstanding Chapter Advisor, Jan Repnow.  Minot State received a Gold Seal Chapter distinction. Melanie MacPherson and Haley Wood were recognized with Bronze Awards of Excellence. Hannah Heisler, Melanie MacPherson, and Tanner Thompson were National Leadership Conference Scholarship Recipients. Advisors for the Minot State chapter are Megan Fixen and Jan Repnow.
About Minot State University
Minot State University is a public university dedicated to excellence in education, scholarship, and community engagement achieved through rigorous academic experiences, active learning environments, commitment to public service, and a vibrant campus life.
---