Ahoy: Set sail with the Alumni Association's European cruise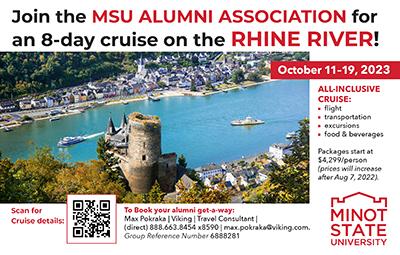 MINOT, N.D. – Come join the adventure with the Minot State University Alumni Association for its first-ever Castles and Cathedrals tour, an enchanted cruise down the beautiful Rhine River through Germany and France.
"The Castles and Cathedrals tour will be an exciting travel opportunity for alumni, friends, and families," said Janna McKechnie, Minot State director of alumni and engagement. "We can't thank Viking Travel enough for partnering with the MSU Alumni Association for this experience.
The cruise includes eight days, six guided tours, and four countries in the Castles and Cathedrals tour. The voyage will begin in Amsterdam, Netherlands on Oct. 12 and wind through Germany and France before ending in Basel, Switzerland on Oct. 19.
The cruise package includes all cruise fees and expenses, food and (most) beverage service, six guided tours, and flights and transportation from and to the airport. Packages start at $4,299 per person.
For more information on the Castles and Cathedrals tour, see Viking's RHINE RIVER ITINERARY, for information on the ship, see VIKING GERSEMI SHIP, and for a video of the Rhine River, see RHINE RIVER VIDEO.
To book a cruise, contact Viking Travel Consultant, Max Pokraka, at 1-888-663-8454, extension 8590, or by EMAIL. Use our group reference number, 6888281, when booking. Viking Cruises requires all passengers be vaccinated against COVID-19 with proof of vaccination and have a valid passport. Additional trip excursions and add-ons are available on a person-to-person basis.
Viking does require full payment for our cruise by Sept. 1 but does have a very generous cancellation POLICY. The following schedule will apply for all cancellations received based on days prior to departure:
120 days or more prior to departure: 100% full refund, except for $100 cancellation fee per person
119 to 90 days prior to departure (June 14-July 13): 80% refund of full fare
89 to 70 days prior to departure (July 14-Aug. 2): 65% refund of full fare
69 to 50 days prior to departure (Aug. 3-23): 50% refund of full fare
49 to 30 days prior to departure (Aug. 23-Sept. 11): 25% refund of full fare
29 days or less prior to departure: No refund
For more information, contact McKechnie by EMAIL or phone at (701) 858-3373.
About Minot State University
Minot State University is a public university dedicated to excellence in education, scholarship, and community engagement achieved through rigorous academic experiences, active learning environments, commitment to public service, and a vibrant campus life.
---