Alumni Association kicks off 2022 Friend Raising Tour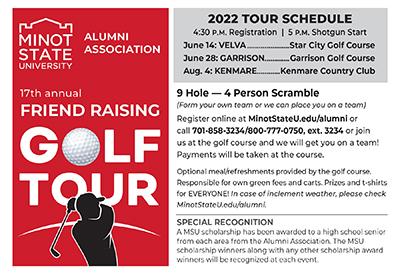 MINOT, N.D. – The Minot State University Alumni Association will begin the 17th annual Friend Raising Golf Tour in Velva Tuesday.
The Friend Raising Golf Tour is a nine-hole, four-person scramble beginning with registration at 4:30 p.m. and a 5 p.m. shotgun start. Players can form teams or individuals can be placed on teams at registration.
The tour is set for Star City Golf Course Tuesday, Garrison Golf Course on June 28, and finishes with Kenmare Country Club Aug. 4. At each event, an MSU scholarship award winner will be recognized.
There is an optional meal or refreshments served by the golf course at each event and each player is responsible for their own green fees and carts. Prizes and t-shirts are provided by the Alumni Association.
Register online at MinotStateU.edu/alumni or call 701-858-3234.
About Minot State University
Minot State University is a public university dedicated to excellence in education, scholarship, and community engagement achieved through rigorous academic experiences, active learning environments, commitment to public service, and a vibrant campus life.
---