SENIOR SPOTLIGHT: The sixth Lucy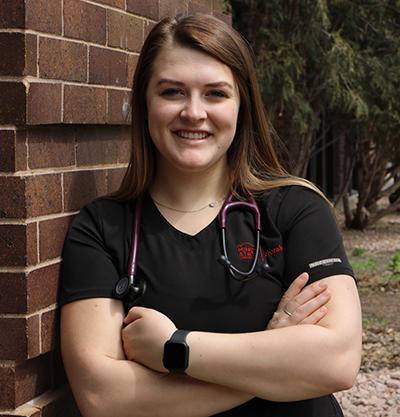 MINOT, N.D. – Growing up in Minot, Jocelyn Lucy, a senior nursing major, began attending Minot State in 2017, following in the footprints of her parents, who met each other at Minot State, and her three older sisters.
Her parents, Mike '89 and Nancy (Peterson) Lucy '90, majored in business and elementary education, respectively. Her three sisters are Samantha (Lucy) Rasmusson '15, radiologic technology; Ashley Lucy '16, mathematics; and Haddie Lucy '18, finance.  
In addition to the family legacy and affordability, Lucy came to MSU for the intensive one-on-one education, possible because of the University's smaller class size.
"Everyone always raved about MSU being smaller. You get more one-on-one time with the professors," Lucy said. "I like that better than, for example, what you hear about NDSU (North Dakota State), where you have over 100 people in every one of your classes and you don't really get to know each other."
Smaller classes also enabled Lucy to develop a cherished professional connection with her professors, like her advisor, Amy Roberts, assistant professor of nursing.
"Professor Roberts was there for five semesters of my nursing program, so she was our third semester teacher. She was also my advisor. I met with her pretty often. If I didn't feel confident on something, I'd go to her office, and she'd help me through it. She's very easy to talk to. Open door policy — you can come in whenever you want. That is pretty much any professor in the nursing program, which is awesome," Lucy said.

Outside of class, Lucy is a member of the Nursing Student Association. She is also a member of the Scholar Program, sponsored by the North Dakota Center for Persons with Disabilities, which includes only five other students on campus. She has been a participant in that program since she was nominated in Fall 2021.
"We get to work alongside families in the community that have kids with disabilities, and we get to see how they interact with the world and things like that. So I've gone to autism clinics," she said. "It's really interesting to learn about these issues, especially with me as a nursing major. I'm probably going to have to deal with patients with disability eventually."  
As for her professional goals, Lucy interned at Trinity Health's Neonatal Intensive Care Unit in the Summer 2021 term, and she will be continuing on as a registered nurse in that department after she graduates from MSU.
"Well, they don't usually let new graduates start there," she said. "But I will get the chance to start there because of doing the internship last summer, so that is pretty awesome."
Thinking of her years in the nursing program at MSU, Lucy also appreciated the close connections she made with her classmates.
"My classmates are my best friends now," she said. "Being with them every day in class and then seeing everyone get jobs now — it's crazy. We're finally doing it. Finally done!"
About Minot State University
Minot State University is a public university dedicated to excellence in education, scholarship, and community engagement achieved through rigorous academic experiences, active learning environments, commitment to public service, and a vibrant campus life.
---