Twist and shout with the Minot Symphony Orchestra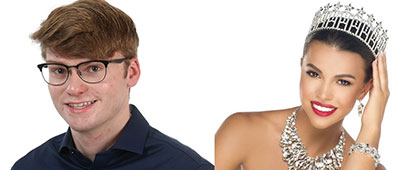 MINOT, N.D. – The Minot Symphony Orchestra invites the whole family to its live performance, "Twist and Shout," on Saturday, Feb. 5 at 3 p.m. in Ann Nicole Nelson Hall, located inside Old Main on the campus of Minot State University.
"Having the family concert at three in the afternoon encourages parents to bring their children, as it won't interfere with bedtime," said Ellen Fenner, Minot Symphony Orchestra executive director. "It also encourages those who don't like to drive in the dark to come out and enjoy live music."
The family concert will feature the winner of the annual MSO North Dakota High School Soloist Competition, Hayden Fredrickson.
Fredrickson will perform the first movement of David Gillingham's Concerto No. 2 for Marimba and Orchestra. He is a junior at Minot's Magic City Campus and has been playing music for as long as he can remember.
His first formal music education was at the Minot Children's Music Academy at the age of 3, where he learned how to play piano. He has participated in the Northwest Festival of Music since 2017 and is a member of the Minot City Band, Brass Band of Minot, Magic City Campus Varsity Winds Band, and Magi Drumline. 
"A competition like this requires a tremendous amount of preparation from performers," said Avis Veikley, Minot State associate professor of music. "In working with Hayden, I have found that he is always up for a challenge, and when he tackles a big project, he goes at it 100%. Being chosen as the MSO soloist is quite an honor. I am so happy to see Hayden's enthusiasm and work ethic rewarded."
This family concert will educate patrons of all ages with Benjamin Britten's famous "Young Person's Guide to the Orchestra." The concert will be narrated by Minot native and Miss North Dakota USA Caitlyn Vogel.
Vogel is pursuing her Bachelor of Science degree in nursing at Minot State University. Along with schooling and walking her two 60-pound golden doodles, Caitlyn models locally and nationally with designers like Rachel Allan and Sherri Hill. In November, Caitlyn represented the great state of North Dakota at the national Miss USA pageant where she placed first runner up.
The performance will also feature several pieces that will have attendees dancing in their seat, such as Copland's "Four Dance Episodes from Rodeo" — "Buckaroo Holiday," Corral Nocturne," "Saturday Night Waltz," and "Hoe-Down" — Enesco's "Romanian Rhapsody," and Glière's "The Red Poppy: Russian Sailor's Dance."
Eckroth Music of Minot will be on site and offer an instrument petting zoo which will allow concertgoers of all ages the opportunity to try out a variety of instruments an hour prior to the performance and again during intermission.
A pre-concert talk will also begin at 2 p.m. The 30-minute talk will provide an engaging overview of the works being performed, the story behind the music, the composer, and historical context. The presentation will be by Tim Baumann, camp director of the International Music Camp and symphony member.
The Minot Symphony Orchestra will follow current COVID-19 guidelines as mandated by Minot State University. Social distancing and masks are not required at this time but are strongly encouraged. This is subject to change as the COVID-19 pandemic changes. For patrons not comfortable attending a live performance, or are not able to travel, the performance will also be available via livestream.
Tickets start at $25 for adults, with senior and student discounts available. Individual tickets and flex passes are available. A flex pass, which includes six concert tickets for the price of five, can be used for multiple tickets to the same performance or spread out between performances.
All tickets are available at minotsymphony.com or through the box office at 701-858-4228. Patrons are encouraged to purchase tickets in advance.
The next performance of the Minot Symphony Orchestra is March 5 as they pay tribute to American composer, conductor, and pianist John Williams' 90th birthday. The performance will include Williams' "Cowboy Overture," "Theme from Jurassic Park," "Harry Potter and the Sorcerer's Stone," "The Star Wars Suite for Orchestra," and more.
The symphony's season will conclude on April 30 and will feature the Heartland Marimbas, the 2021 Young Composition Contest winner, and Mahler Symphony No. 1.
The Minot Symphony Orchestra is a unique blend of student, community, and professional musicians from the Minot area. The symphony is directed by Maestro Efraín Amaya, associate professor of music at Minot State University.
This project is supported in part by a grant from the North Dakota Council on the Arts, which receives funding from the state legislature and the National Endowment for the Arts.
About Minot State University
Minot State University is a public university dedicated to excellence in education, scholarship, and community engagement achieved through rigorous academic experiences, active learning environments, commitment to public service, and a vibrant campus life.
---