Alumni Association invites alumni and friends to February events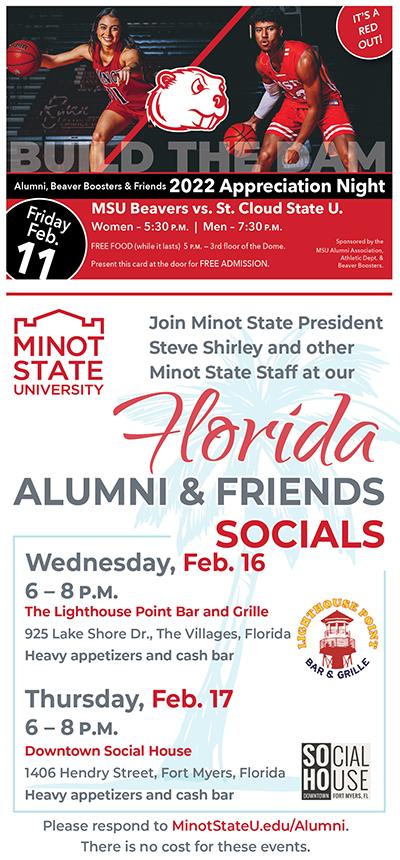 MINOT, N.D. – The Minot State University Alumni Association will host two events in February to bring alumni and friends together.
The first event is the Alumni, Beaver Boosters, and Friends 2022 Appreciation Night held in conjunction with Minot State Athletics during home women's and men's basketball.
The appreciation night is scheduled for Friday, Feb. 11 starting at 5 p.m. at the Minot State Dome. The Alumni Association and Beaver Boosters have mailed cards for free admission and there will be free food on the third floor of the Minot State Dome. The Beavers will battle St. Cloud State with the women's game set for 5:30 p.m. and the men's tipoff at 7:30 p.m.
"Our alumni and friends appreciation night is a great chance to get on campus, enjoy dinner, and cheer on the basketball teams," said Janna McKechnie, director of Alumni Relations and Annual Giving. "Minot State's alumni and friends are wonderfully supportive of the University and this is a chance for us to say thank you."
MSU President Steve Shirley and the Alumni Association will host a Florida Alumni and Friends Social Wednesday, Feb. 16 and Thursday, Feb. 17.
The socials are free with heavy appetizers and a cash bar and are open to all alumni and friends.
On Feb. 16, the Alumni Association will take over the Lighthouse Point Bar and Grille in The Villages, Florida. On Feb. 17, the location shifts to Downtown Social House in Fort Myers, Florida. Both events run from 6-8 p.m.
"We have MSU alumni all over the United States. It's a fun opportunity to reach them in their own backyard and bring our alumni and friends together in a unique atmosphere," McKechnie said. "It's great to connect with our alumni and friends that may not make it back to the University and gives us a chance to share all of the wonderful things happening on campus."
For mor information on these events, please see the Minot State Alumni Association WEBSITE or contact McKechnie by EMAIL.
About Minot State University
Minot State University is a public university dedicated to excellence in education, scholarship, and community engagement achieved through rigorous academic experiences, active learning environments, commitment to public service, and a vibrant campus life.
---