Trinity Health announces continued nursing partnership with Minot State University, Dakota College at Bottineau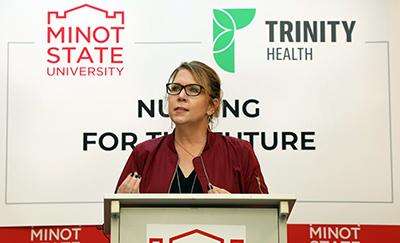 Karen Zimmerman, Trinity Health
MINOT, N.D. – Minot State University (MSU) and Dakota College at Bottineau (DCB) will continue a healthcare initiative with Trinity Health, creating increased opportunities for students to pursue nursing education and to assist with the healthcare needs of the region.
Trinity Health has committed to donating $250,000 per year for the next five years to the Minot State University Department of Nursing and $100,000 per year for five years to Dakota College at Bottineau. The $1.75 million, five-year donation will help both institutions prepare and graduate high-quality nurses.
"Both the MSU and DCB campuses are incredibly grateful to Trinity Health for their continuing support and dedication to furthering nursing education in our region," said Minot State and DCB President Dr. Steven Shirley. "It is an exciting and important time in healthcare, and we have seen the critical role nurses play as we have all lived through the COVID pandemic. Trinity is a wonderful partner with the nursing departments at MSU and DCB, and we are so thankful for the many ways they continue assisting and enhancing our ability to educate the next generation of nursing professionals."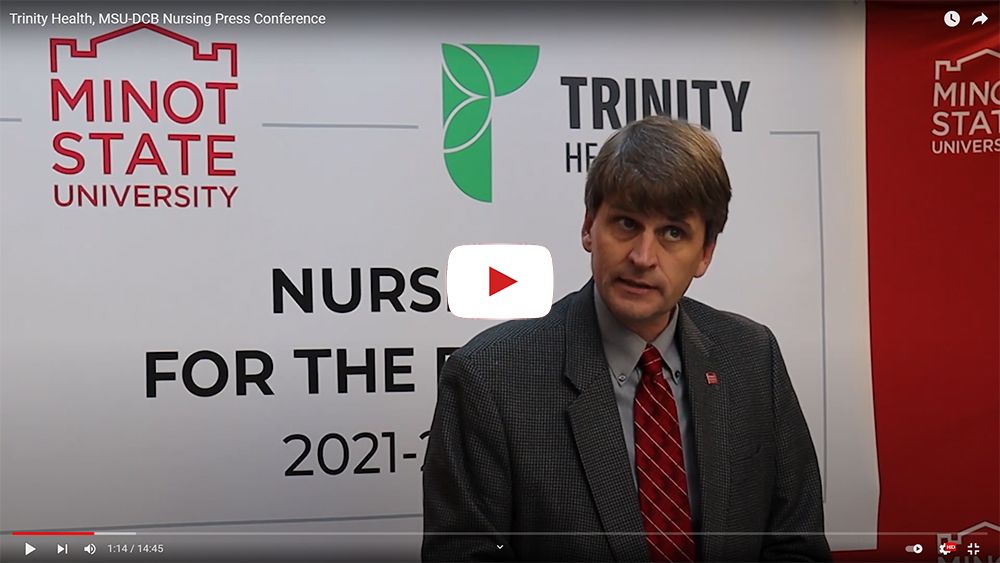 This marks the third five-year partnership between MSU and Trinity Health. The funds have helped the University fund full-time positions, including two nursing faculty positions, and has ensured MSU admits up to 33 qualified nursing students into its nationally-recognized program each semester, or 66 students per year.
Along with added faculty teaching positions, the donation assists Minot State's continued commitment to providing innovative simulation space. Advanced simulation, along with a variety of clinical experiences for student nurses at Trinity Health, are critical components of MSU's nursing education.
"The partnership between Trinity Health, Minot State, and Dakota College at Bottineau shows our commitment to working together to grow and support the nursing profession," said Karen Zimmerman, chief nursing officer/vice president for patient care services at Trinity Health. "This partnership has allowed us to add additional students to the MSU program and take steps to meet an increasing need for nurses. It also demonstrates how healthcare organizations can work with academic institutions to support students throughout their academic life and continue that support into their professional life as a nurse."

DCB, a partner in the Dakota Nursing Program, educates nursing students in Minot at the practical and associate degree levels. Once a student graduates from DCB and is licensed as a registered nurse, they can articulate into the Bachelor of Science in Nursing Completion Program at MSU and complete the BSN degree in three semesters, making them eligible for many leadership positions and graduate school.
"We hold such tremendous gratitude for the ongoing support from Trinity Health. Our partnership provides opportunities to meet the demands of our nursing workforce with continued growth of our pre-licensure and RN to BSN nursing programs," said April Warren, chair of the Minot State Department of Nursing. "The generous support of Trinity Health also fosters further opportunity to provide an exceptional nursing education with comprehensive clinical opportunities. It is an honor to work collaboratively with Trinity Health and collectively strategize future plans to grow our nursing programs and do our part to create the future of nursing."
About Minot State University
Minot State University is a public university dedicated to excellence in education, scholarship, and community engagement achieved through rigorous academic experiences, active learning environments, commitment to public service, and a vibrant campus life.
---