MSU Summer Theatre renovation, fundraising making steady progress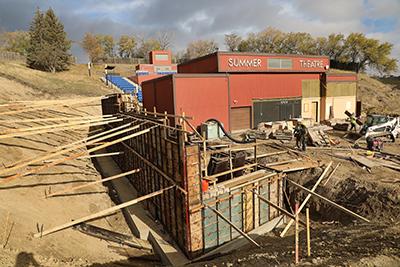 MINOT, N.D. – Minot State University's Summer Theatre revitalization project has given way to Mother Nature for the 2021 building season, however Phase Two of the project has made steady progress both at the iconic amphitheater site on the north end of campus as well as its vital funding project.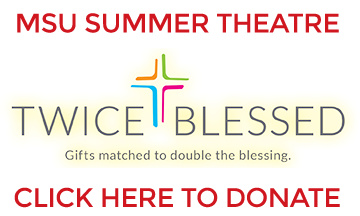 "We were glad to have warm weather so late into the year, which allowed construction to continue," said Chad Gifford, MSU Summer Theatre artistic director. "Right now, the huge retaining walls that have been built on both sides of the theatre really show how much larger our entire complex is going to be once this is done. When the construction first started, it was a lot of building demolition and digging deep into the hill sides, so seeing those cement walls up really shows us what it's all going to look like next year."
While the construction portion of the project moves along, so does fundraising. MSU Vice President for Advancement/MSU Development Foundation Executive Director Rick Hedberg estimates 85% of the $2.5 million project has been raised, but notes work still needs to be done.
"We are so close to finishing our fundraising for this much-needed renovation," Hedberg said. "We have one chance to make some significant upgrades to the facility.  If we can meet our fundraising goal, this is going to be one of the premier outdoor amphitheaters in the upper Midwest.  I'm confident people are going to love the improvements."
To bolster those efforts, MSU has partnered with Twice Blessed this season to maximize giving due to a generous grant from the St. Joseph's Community Health Foundation. The Twice Blessed program will match donations up to $5,000. Tax deductible donations can be made HERE.
"The Twice Blessed campaign is important so that we can finish our fundraising goal," Gifford said. "Any time we can stretch those dollars further, it really makes a difference in how quickly we meet our goals. It's been amazing that we have raised this much money already, so I am confident that we can reach this final goal for this year."

Phase One of the project, started in October 2020 and completed before the beginning of last summer's 56th season of Summer Theatre, focused on accessibility, including integrating handicap seating in each section, increased space for aisles and handrails, and replacing the upper-level deck.
Phase Two began immediately after the summer season and is expected to be complete in June 2022, in time for a full 57th season. Included in Phase Two is a complete renovation of the existing complex including bathrooms, ticket office, dressing rooms, and office space, along with a new plaza and drive-through, and lower-level concessions.
"It's been amazing to see all of these changes happening," Gifford said. "Prior to this project, our changes at Summer Theatre have primarily been minor. Building entirely new structures is amazing to see and is something we are all really looking forward to seeing it come together.
"It's been great to see how much support the community has given us for this project. Completing this project really shows how much Summer Theatre is valued in Minot."
About Minot State University
Minot State University is a public university dedicated to excellence in education, scholarship, and community engagement achieved through rigorous academic experiences, active learning environments, commitment to public service, and a vibrant campus life.
---