Minot Symphony Orchestra presents 'Roll Over Beethoven'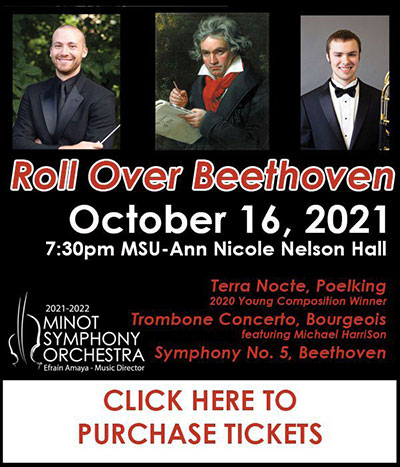 MINOT, N.D. – The Minot Symphony Orchestra will present a live performance, "Roll Over Beethoven," on Saturday, Oct. 16 at 7:30 p.m. at Ann Nicole Nelson Hall featuring works by Poelking, Bourgeois, and Beethoven.
Don't miss the live performance of one of the most recognized pieces in music history, Beethoven's, Symphony Number 5. The first four notes are said to be "the sound of fate knocking at the door," in the words that Beethoven used to characterize the world-famous and recognizable opening motif.
Glenburn native Michael HarriSon, who was chosen as a co-winner of the MSU Honors Competition in the Spring 2021, will perform D. Bourgeois' Trombone Concerto. HarriSon is currently a music education major at Minot State University studying trombone with David Rolandson. In addition to the Minot Symphony Orchestra, he performs regularly as a trombonist with the MSU Concert Band, MSU Jazz Ensemble, and Western Plains Opera Company.
 "Michael HarriSon has studied trombone with me since he was a high school student in Glenburn, North Dakota, and he has worked incredibly hard over the past several years to achieve his professional goals. Being named a co-winner of the MSU Honors Competition is a direct result of Michael's tireless dedication to improving as a trombonist and musician," said Rolandson, director of bands and associate professor of music. "Performing this concerto with the MSO is a significant achievement, but I have a feeling this is only the beginning for Michael, who I believe is destine for great things as both a performer and music educator."
The performance will showcase the 2020 Young Composition Contest winner, Kevin Poelking's original composition, "Terra Nocte."
"'Terra Nocte' was not composed with any visual images in mind; however, as the piece neared its completion, the opening measures of the music seemed to evoke an atmosphere which inspired the title of 'Terra Nocte,' Latin for 'Earth at Night,'" said Poelking. "This loosely metered introduction seemed to paint a picture of a quiet lake under the moonlight, with small disturbances rippling across smooth surface while insects, wind, and wildlife sing and stir around its banks."
With an increasing number of performances in both the United States and Europe, Poelking is an emerging American composer. After completing his undergraduate degree at the University of South Carolina, he began receiving frequent performances from professional musicians and ensembles which now include the Dallas Winds and Budapest Scoring Orchestra, in addition to ensembles at The University of Michigan, Louisiana State University, CU-Boulder, Virginia Tech, and other major American universities. He is currently on faculty at Colorado State University.
The annual Young Composer Composition was started in 2018 and is open to composers age 35 and under living or pursuing music studies in North Dakota, South Dakota, Minnesota, Montana, Wyoming, or Colorado.
Original compositions for symphony orchestra up to 10 minutes in length are accepted annually. The current submissions are due Jan. 14, 2022. The chosen winner receives a $500 cash prize sponsored by descendants of Merritt and Annie Warner and their work performed by the Minot Symphony Orchestra. Details are available at minotsymphony.com.
The Minot Symphony Orchestra will follow current COVID-19 guidelines as mandated by Minot State University. Social distancing and masks are not required at this time. This is subject to change as the COVID-19 pandemic changes. For patrons not comfortable attending a live performance, or are not able to travel, performances will also be available via livestream.
Advanced tickets are available on the symphony's website. Tickets start at $25 for adults with senior and student discounts available. Individual tickets, season tickets, and Flex Passes are available. A Flex Pass, which includes six concert tickets for the price of five, can be used for multiple tickets to the same performance or spread out between performances. All tickets are available at minotsymphony.com or through the box office at 701-858-4228. Patrons are encouraged to purchase tickets in advance.
Pre-concert talks, which provide an engaging overview of the works being performed, talk about the story behind the music, the composer, and historical context, will be presented one hour before the concert.
The Minot Symphony Orchestra is a unique blend of student, community, and professional musicians from the Minot area. The symphony is directed by Maestro Efraín Amaya, assistant professor of music at Minot State University.
This project is supported in part by grants from Arts Midwest and the North Dakota Council on the Arts, which receives funding from the state legislature and the National Endowment for the Arts.
About Minot State University
Minot State University is a public university dedicated to excellence in education, scholarship, and community engagement achieved through rigorous academic experiences, active learning environments, commitment to public service, and a vibrant campus life.
---