Minot State University to host Take Back the Night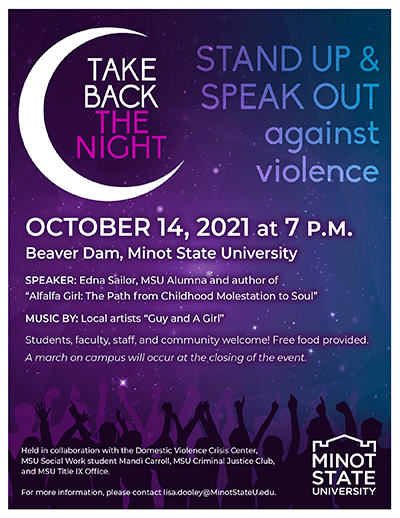 MINOT, N.D. – The Minot State University Title IX Office, Criminal Justice Club, and the Domestic Violence Crisis Center have collaborated to sponsor the University's third annual Take Back the Night Wednesday, Oct. 14 at the Beaver Dam in the Student Center. This year's event begins at 7 p.m. and is open to all students, faculty, staff, and Minot community members.
Edna Sailor, Minot State alumna and author of "Alfalfa Girl: The Path from Childhood Molestation to Soul," will be the guest speaker.  Sailor has devoted her life advocating for a better understanding of the sheer magnitude of America's child sexual abuse epidemic. She is a volunteer representative of the National Association of Adult Survivors of Childhood Abuse, published freelance writer, newspaper reporter, and author. Music will be provided by local artists Guy and A Girl. Free food will be provided during the event. 
"The Take Back the Night event provides an opportunity for community members to come together in solidarity to support survivors and increase awareness of gender-based violence with the goal of creating a safe community for all," said Lisa Dooley, Minot State Title IX coordinator. "Take Back the Night is an important event not only to spread the word about the prevalence of violence but to listen to the voices of survivors and empower others in similar situations.
"The event is inclusive and acknowledges that violence strikes all sexes, genders, and sexual orientations. The goal is that MSU members together with the Minot community will promote healing for survivors and give participants the tools to advocate for a community free from sexual and domestic violence."
This marks the third year Take Back the Night has been sponsored through the MSU Title IX office, but the event has been part of the Minot community through the Domestic Violence Crisis Center for multiple years.
For more information on the event, please contact Dooley at lisa.dooley@MinotStateU.edu.
About Minot State University
Minot State University is a public university dedicated to excellence in education, scholarship, and community engagement achieved through rigorous academic experiences, active learning environments, commitment to public service, and a vibrant campus life.
---