NOTSTOCK is back at Minot State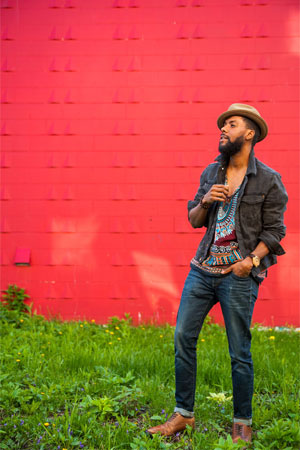 Minot State alumnus Joe Davis
MINOT, N.D. – After a pandemic pause in 2020, NOTSTOCK returns with an amazing lineup of guests and activities for the community to participate in the arts Sept. 23-25.
In its 14th year, Minot State's annual live, signature arts event celebrates three days of printmaking, poetry, music, ceramics, theater, and broadcasting and features three special art exhibits. All events, except the Friday night concert, take place on the MSU campus and are free and open to the public. A full list of events and locations can be found at msunotstock.blogspot.com.
This year's festivities will feature six guest artists as well as art, music, and other creative opportunities provided by Minot State students, faculty, and staff, and local artists and musicians. 
The six featured guest artists include Ben Blount of Evanston, Illinois; Max Mahn of Missoula, Montana; Joe Triscari of Denver, Colorado; Tama Smith of Beach; Joe Davis of Minneapolis, Minnesota; and Tom Brosseau of Grand Forks.
"Nowhere else in North Dakota can you see and work so closely with such a wide variety of artists who are willing to share their talents and experiences," said Laurie Geller, vice president for academic affairs and NOTSTOCK co-organizer. "The event includes something that will appeal to the artist in everyone."

 Ben Blout
Blount is a designer, letterpress printer, and maker who loves type, teaching, and putting ink on paper. He makes posters and books using antique printing presses and wood and metal type. His work explores questions of race and identity and the stories we tell ourselves about living in America.
He will print live in the Northwest Arts Center (NAC), located on the lower level of the Gordon B. Olson Library, Sept. 23-24 from 9 a.m.-5 p.m. and Sept. 25 from 10 a.m.-3 p.m. He will also give a presentation of his work Sept. 24 at 12 p.m. in Aleshire Theater in Hartnett Hall. His work is on display in NAC.

Max Mahn
Mahn is a printmaker and illustrator whose clients range from pizzerias to film festivals and from newspapers to breweries. His true passion is working directly with the bands he idolized as a child. Some of his clients include Wilco, Elysian Brewing, The Melvins, WEEN, Kitchen Dwellers, Montana Skatepark Association, Billy Strings, Umphrey's McGee, Pigeons Playing Ping Pong, Andrew Bird, and Goose.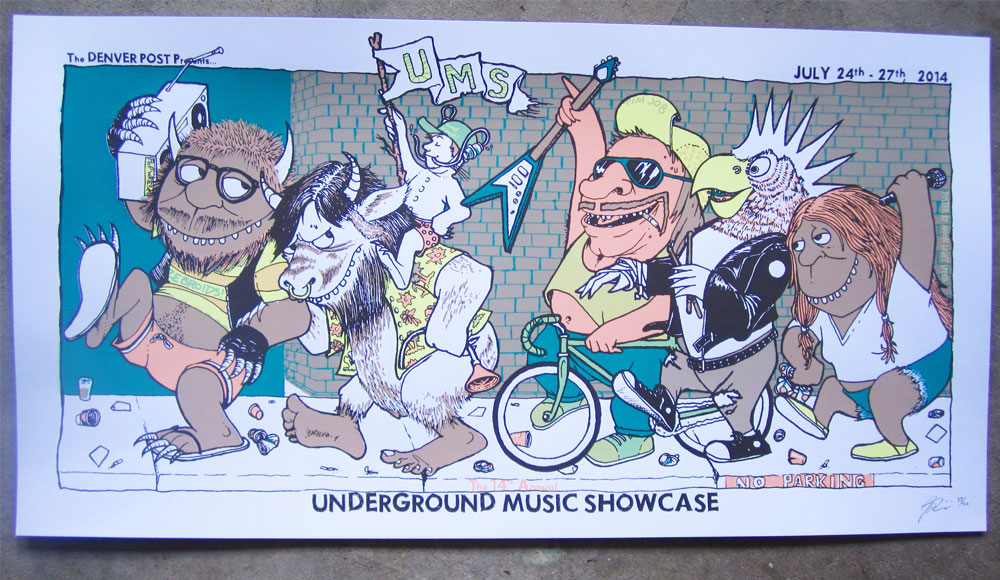 Joe Triscari
Triscari is a designer, printmaker, and illustrator who also makes posters for music clients. Some of these bands include Jawbreaker, Guided by Voices, Lenny Kravitz, Lucero, WEEN, Nathaniel Rateliff, Tame Impala, Cloud Nothings, Sheer Mag, Unknown Metal Orchestra, Deerhunter, and Deer Tick.
Mahn and Triscari will print live in the Beaver Dam, located on the second floor of the Student Center, Sept. 23-24 from 9 a.m.-5 p.m. and Sept. 25 from 10 a.m.-3 p.m. Mahn and Triscari will each give a presentation of their work at 11 a.m. on Sept. 23 and 24, respectively, in Aleshire Theater. Like Blount, their work is on display in the NAC.

Tama Smith
Smith has worked as a professional potter since 1988. Her work is prized for its vivid and complex colors produced from original glaze recipes, each made from scratch. She works primarily in stoneware clay and uses a variety of production and glazing techniques. Since 1995, she and her husband have run Prairie Fire Pottery in Beach.
She will provide ceramics demonstrations outside the Student Center Sept. 23-24 from 9 a.m. to 5 p.m. and Sept. 25 from 10 a.m. to 3 p.m. She will give a presentation of her work Sept. 23 at 12 p.m. in Aleshire Theater. During the event, her work will be on display in the NAC.
Davis is a Minot State alumnus and nationally touring artist, educator, and speaker who employs poetry, music, theater, and dance to shape culture. He is the founder and director of multimedia production company The New Renaissance, the frontman of emerging soul funk band The Poetic Diaspora, and co-creator of JUSTmove, racial justice education through art. He has worked with hundreds of high schools and universities, and his work has been featured on BET, CNN, and VH1.
Davis will offer one-hour WORDSTOCK workshops in the Student Center Conference Room, located on the third floor, Sept. 23 at 9:30 a.m. and 11 a.m. and again on Sept. 24 at 11 a.m. and 12 p.m. He will give a special WORDSTOCK performance Sept. 23 at 7:30 p.m. in the MSU Quad between Old Main and Administration. Finally, he will host the Slam in the Beaver Dam Sept. 24 at 1:30 p.m. Anyone can share a poem and compete for awards and prizes.

Tom Brosseau
Brosseau is a folksinger and songwriter. He has toured Japan, Canada, Portugal, Iceland, and Australia; performed in bars, backyards, grand halls, subways, theater, and nursing homes; and exchanged songs and poetry with many talented folks, including Susan Orlean, Ramblin' Jack Elliott, Patrick Marber, Bonnie Raitt, and the late Sam Hinton. Brosseau also writes, records, and hosts "The Great American Folk Show," a variety radio show focused on the traditions of storytelling, monologues, music, poetry, and recipes on Prairie Public.
Come downtown to Atypical Brewery and Barrelworks on Friday, Sept. 24 for a special NOTSTOCK concert with Brosseau. Opening bands are MAX of Wild Hands and Micah Scott. Music starts at 6 p.m.
Don't miss Professor Aili Davidson Smith's theater games workshop "Improv, Movement & Laughter," Sept. 23 and 24 at 9:30 a.m. in Aleshire Theatre. In addition, a broadcasting workshop will be held Saturday, Sept. 24 at 11 a.m. in Hartnett Hall.
During the event, DIY screen printing stations are available to everyone in the Beaver Dam. Bring a t-shirt, tote bag, or other items for printing, while listening to live music and tongue twister competitions.
Three art exhibits will be featured. The works of Blount, Mahn, and Triscari will be on display in the NAC starting Sept. 9. The "Perspectives" exhibit is currently on display in the Flat Tail Press Gallery in the west staircase of the Student Center. Finally, "QuaranTIME – Lockdown with COVID" will be on display in the Hartnett Hall Gallery starting Sept. 20. "QuaranTIME" includes art and poetry submitted by ND Department of Corrections and Rehabilitation resident artists and authors.
"A significant contributor to creative and artistic culture at Minot State University, NOTSTOCK is back," said Greg Vettel, NAC director. "We are overjoyed to showcase amazing artwork from NOTSTOCK visiting artists at the Northwest Arts Center."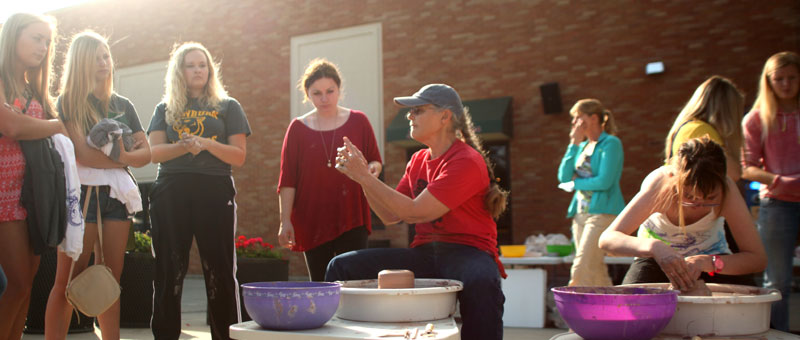 Saturday, Sept. 25 is Community Day at NOTSTOCK. Bring a t-shirt or tote bag for DIY printing while listening to live music in the Beaver Dam. Sit at a pottery wheel or watch ceramic demonstrations with Smith. Don't miss Blount, Mahn, and Triscari as they wrap up their NOTSTOCK prints in the Beaver Dam and NAC. All artists will have artwork for sale. Hours on Saturday are 10 a.m. to 3 p.m.
Wrap up the event at the NOTSTOCK closing reception Saturday, Sept. 25 at 7 p.m. at the NAC. Hear from the artists, see their work, and enjoy food, drink, and live music.
"NOTSTOCK is unlike any other arts event in that it is participatory," said Bill Harbort, art professor and NOTSTOCK co-organizer. "All that attend have the unique opportunity to engage in art-making within the greater NOTSTOCK creative community."
"Come make art with us," added Geller. "Everyone is invited."
For additional information about NOTSTOCK, visit https://msunotstock.blogspot.com/.
About Minot State University
Minot State University is a public university dedicated to excellence in education, scholarship, and community engagement achieved through rigorous academic experiences, active learning environments, commitment to public service, and a vibrant campus life.
---